I'm going to be recapping each day of our wedding vacation but I'm going to start at the beginning. Come back tomorrow for Day 1 (November 8th)!
Our journey to Playa started a few years ago as I had discovered and fell in love with the photography of Matt Adcock of Del Sol Photography. They are local to Playa del Carmen and made me fall in love with the location. When Adam finally proposed (after 7 years together) I knew I wanted to get married in Playa and I knew I wanted Del Sol to shoot my wedding.
So exactly a year ago, we took our first trip down to Playa. We met with 5 wedding planners and every single one of them was exactly the same. They wanted to put me into one of their packages in some resort and call it a day. I had one more appointment scheduled but as we only had 2 days left in Playa, I emailed to tell her to forget it, we just wanted to enjoy the beach (convinced all wedding planners down there were the same). She wrote back and said "Well let me come meet you on the beach".
We were staying at the Playa Maya and at 10am the next day, a beautiful, fiesty, Italian woman named Erica came shuffling across the sand. She says "First of all, I don't have any packages so just tell me what you want and we'll make it happen". I rattled off a few things, she says "Oh yes, and we could also do this and this and this". All things that were in my head but I hadn't said yet. In 10 minutes Erica had us convinced we could actually pull off our dream wedding (Erica Bressan of Weddings in Playa).
The next day (our last day in Playa) she came to pick us up and take us to look at Villas to hold our estimated 50 guests. All of the other planners said 50 was too many for a villa and we couldn't do it. Never tell Erica she can't do something.
She found 3 villas in Playacar Phase 1 with the capacity to hold us. But one was an instant match - Casa Chaac. It sits on 4 properties, sleeps up to 10, has an infinity pool overlooking the ocean and a huge yard with tons of room for a party. The reception would be held in the garden and the wedding on the main beach of Playacar. This is how it looked when we went to visit it last year: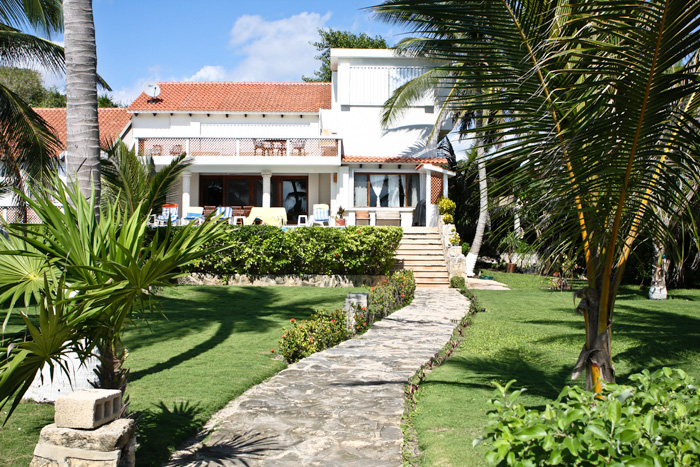 And here we were on the main beach of Playacar on November 14, 2009. Exactly one year to the date before the wedding!