We fly out to Cancun the Monday before our Sunday wedding on a 6:30am flight out of chicago. Check out the sunrise over the chicago skyline taken from the tarmac.

Our flight took off a little early and we landed 30 minutes prior to the scheduled arrival. We zipped through baggage claim and security, straight to the avis counter and took a shuttle to the Avis lot.

We wanted a car for the first day only because we had a ton of running around to do for the wedding. We got a car through avis for about $25 but after the $25 one way drop off fee plus almost $50 for insurance it winded up costing us $96 for a day with the car. Oh well.

Our first stop - lunch. Terminal 5 in chicago has no food or drinks past security so at this point we are starving. We decided we couldn't wait until we got to Playa so we got off the highway in Puerto Morales and had lunch at this place (the only place that looked open!)


We started with guac. Too onion-y for me. The only beer they had was Corona - boo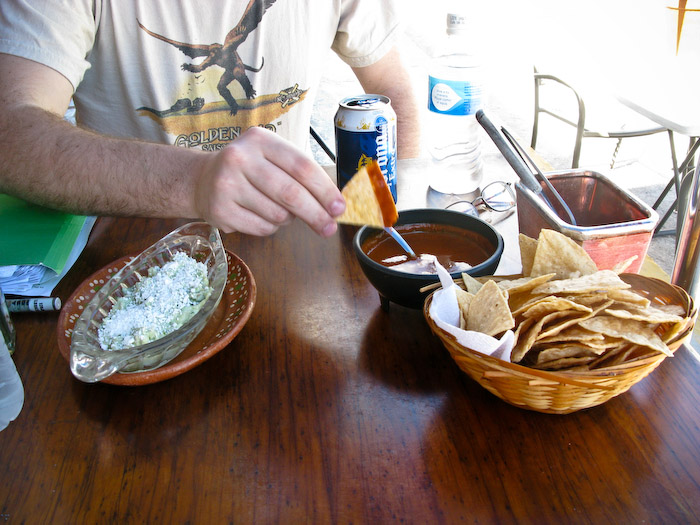 I got a steak tostada and a pastor taco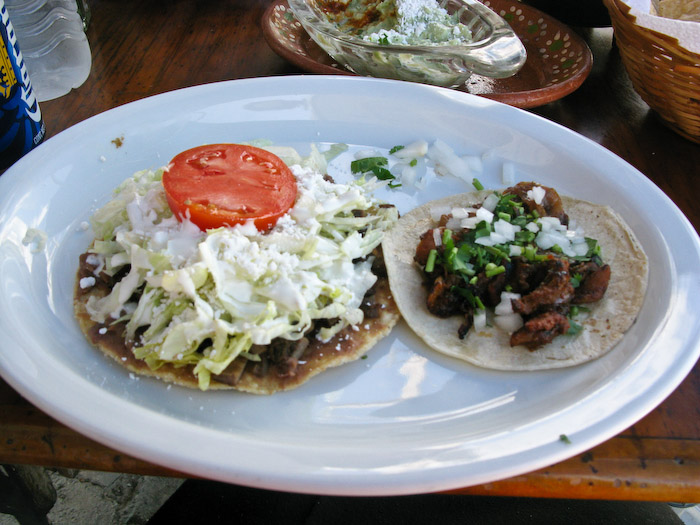 Adam got a chicken quesadilla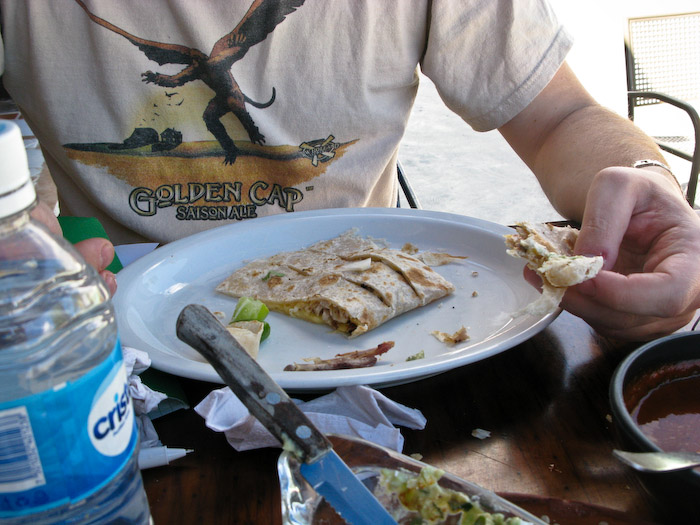 The rest of the food (besides the guac) was pretty tasty! The check (that's about $17 USD):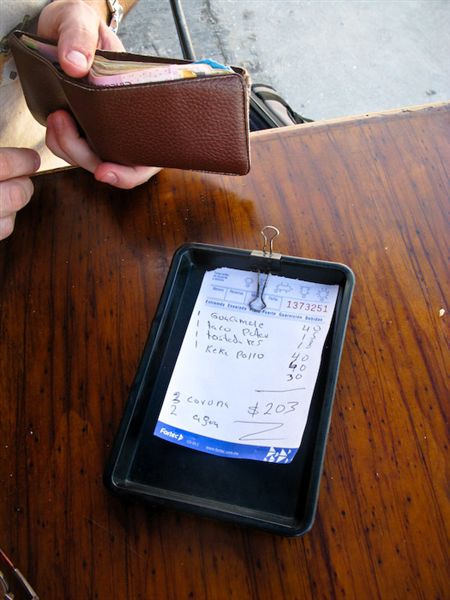 We walked down to the beach before heading out. There was nobody out there!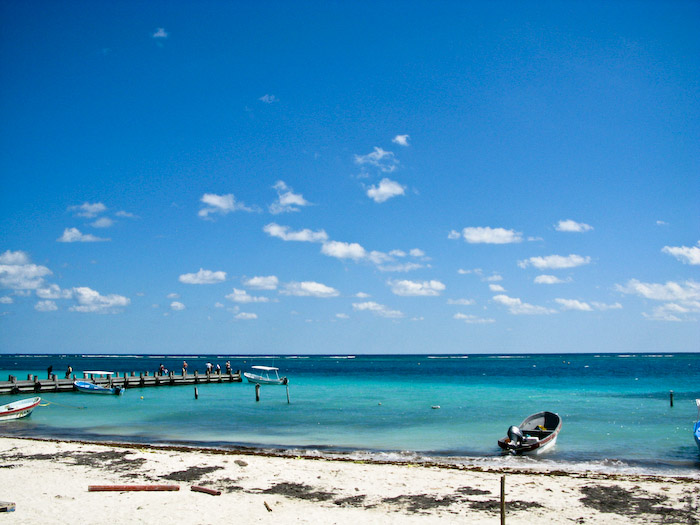 Except this sad little 3 legged dog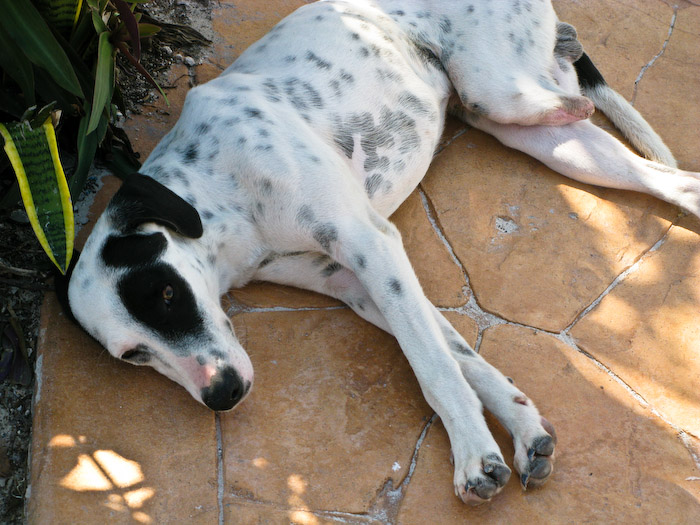 Next stop - Vidrio Soplado to pick up glasses for the wedding. According to this map:
::: El Nuevo Triangulo de Cristal :::
It should be right on the corner of Calle 80 and the highway.
An hour later and we have not found it despite having driven up and down every street near Calle 80. We're starting to bicker so we give up and hope Erica can take us the next day.
We stop at a grocery store on Colosio just West of the highway. Prices aren't that great but we did grab a little beer.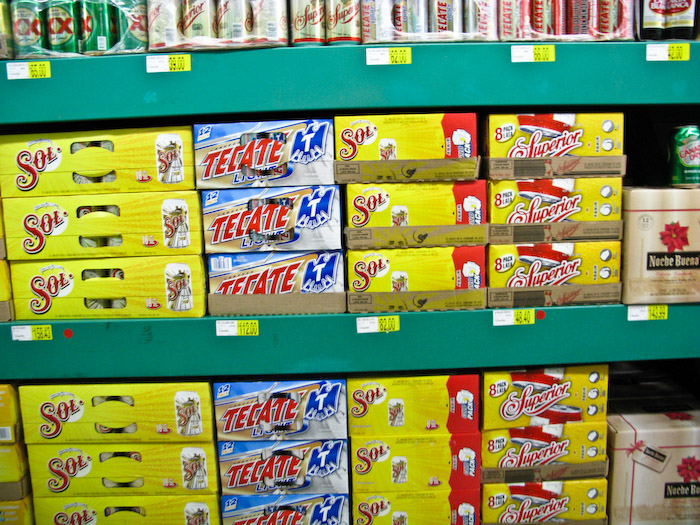 At this point, we were just going to head to Casa Chaac and drop off our stuff but we spotted Covi and since that was our next stop anyway, we decided to go there first.
They are undergoing major renovations but are nearing the end of them and are almost ready to re-open. In the meantime, you just order at the counter.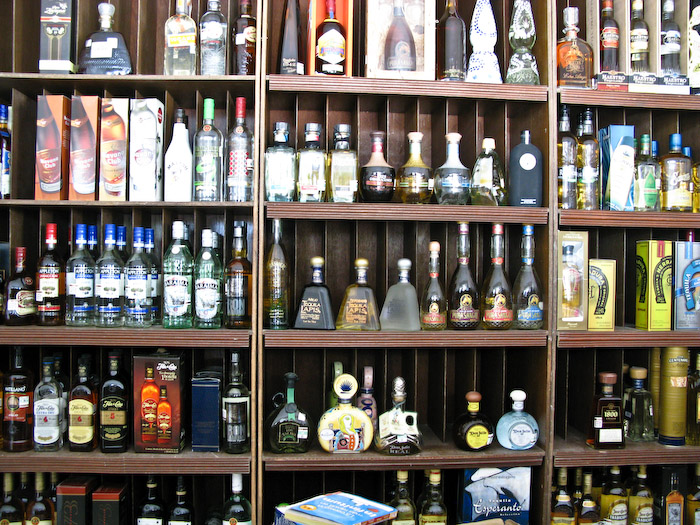 Erica had negotiated us some nearly wholesale prices to stock up for the wedding and we already had our spreadsheet with everything we wanted to order from them. Here's what we got:
10 - TEQUILA GRAN CENTENARIO PLATA 700 ML
2 -TEQUILA GRAN CENTENARIO REPOSADO 950 ML
3 - TEQUILA GRAN CENTENARIO AÑEJO 695 ML
14 - TEQUILA JIMADOR REPOSADO 950 ML
2 - TEQUILA DON JULIO 1942 750 ML
3 - TEQUILA HERRADURA AÑEJO 750 ML
10 - LICOR CONTROY DE NARANJAS 1000 ML
10 -RON HAVANA CLUB BLANCO 750 ML
1 - RON HAVANA CLUB AÑEJO 7 AÑOS 750 ML
1 - RON FLOR DE CAÑA AÑEJO 5 AÑOS 750 ML
1 -VODKA OSO NEGRO 1000 ML (hoping nobody would want to drink vodka in mexico. We were wrong - we wound up buying 6 more bottles...)
6 - VINO TINTO CHILENO MAI CABERNET SAUVIGNON 750 ML
5 - VINO BLANCO CHILENO MAI SAUVIGNON BLANC 750 ML
Adam hands him his credit card to check out. Declined.
Hands him another. Declined.
I get mine out. Declined.
We had already called our banks to tell them we were in mexico and would be charging a lot for our wedding but they thought it was suspicious anyway. Adam spent 30 minutes on the phone with the credit card company before it finally went through. At this point, we'd been at Covi for well over an hour. While Adam was busy on the phone, they took me on a tour of the new facility - it's going to be gorgeous!
Finally, let's load up the car!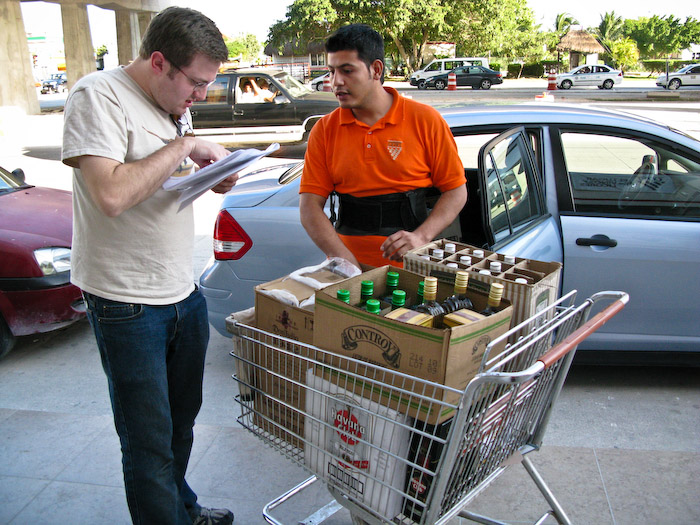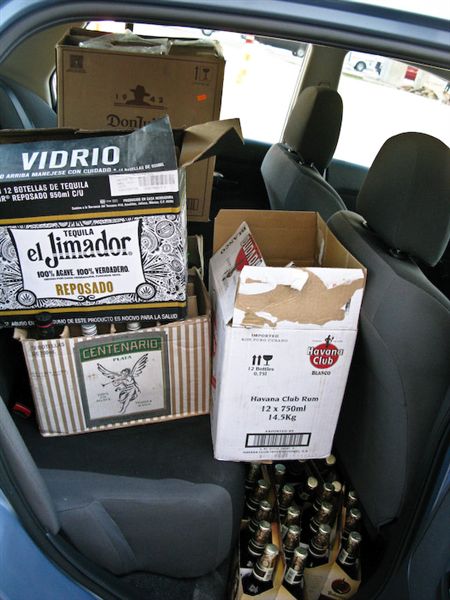 Whew, ok, that was a stressful few hours, let's go check into Casa Chaac. At this point it's 4pm. We landed at 9:30am so it's been a long day. All the stress melts away when we get to casa chaac though. I love it so much more than I remembered it! This is going to be a great place to have a wedding.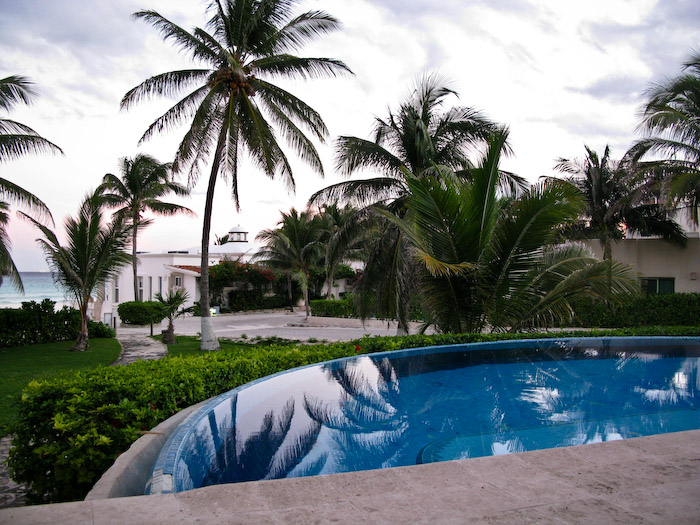 We grab a few beers, throw our bathing suits on and take a quick dip in the pool before we have to unpack.
Couldn't relax too long though as we had a ton of shopping to do still. We drive over and park in the Walmart parking lot and then walk to El Fogon.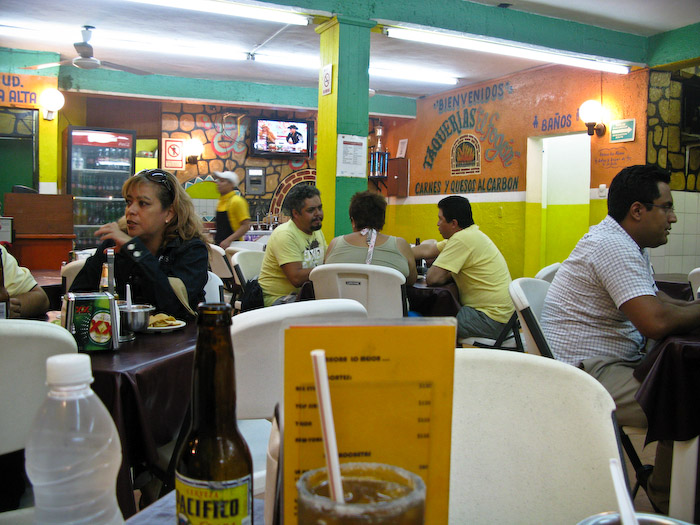 Oh how I've missed you El Fogon.
They always start you out with:

and then the bean soup comes out. Yum!!!!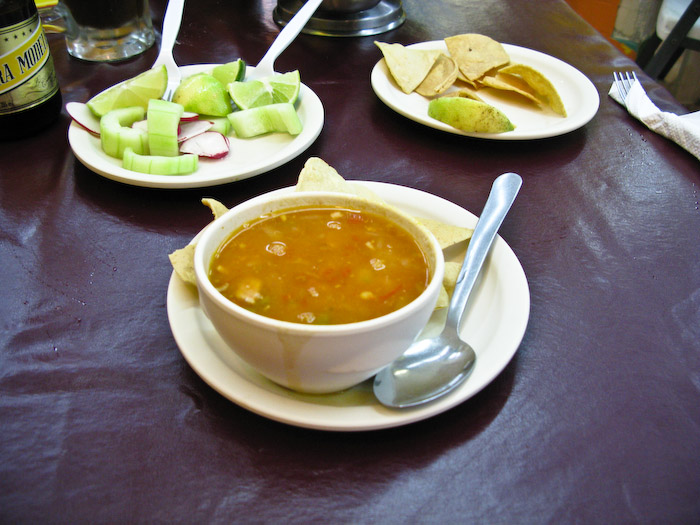 I got the arrachera norteña, Adam got something similar but with Pastor that the waiter recommended.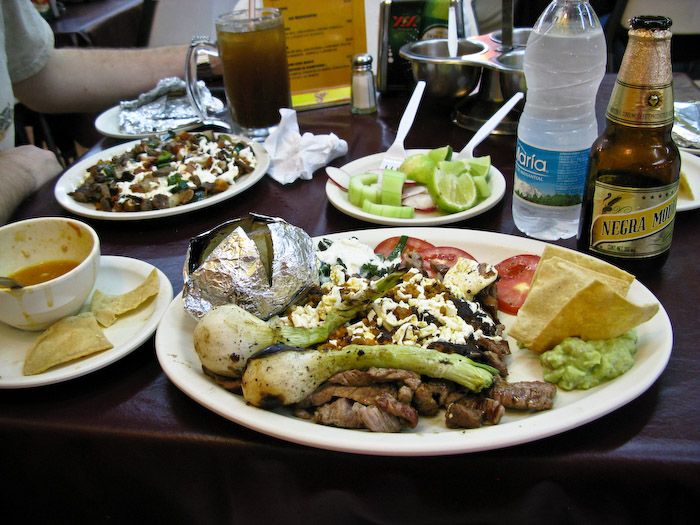 You will see one of these again later - at our wedding!!! We were so in love with the pastor at El Fogon, we asked Erica to get us one for the wedding - and she did!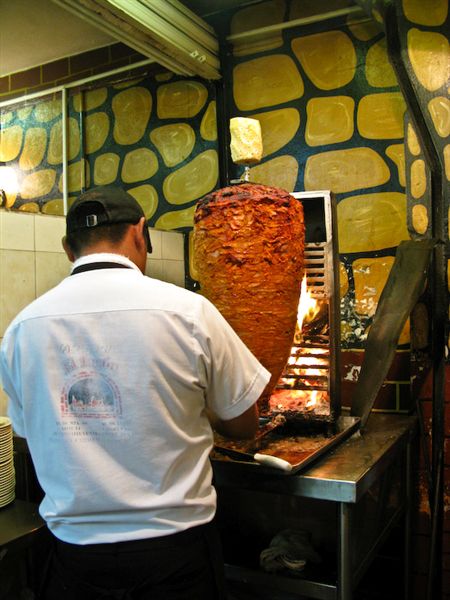 We went to walmart, filled 2 carts full of beer, checked out, loaded up the car, came back in for produce. Very disappointed, bought a bunch but then decided to go to Mega.
Mega had limes twice the size of those at Walmart for 1/5 of the price. They also had grapefruits at 1.5pesos per KG! Holy Crap. We bought about 100. I'm not lying. Our family are big grapefruit eaters/drinkers so we used them to make fresh squeezed grapefruit margaritas all week.
When we got home, we assembled our gift baskets for our guests.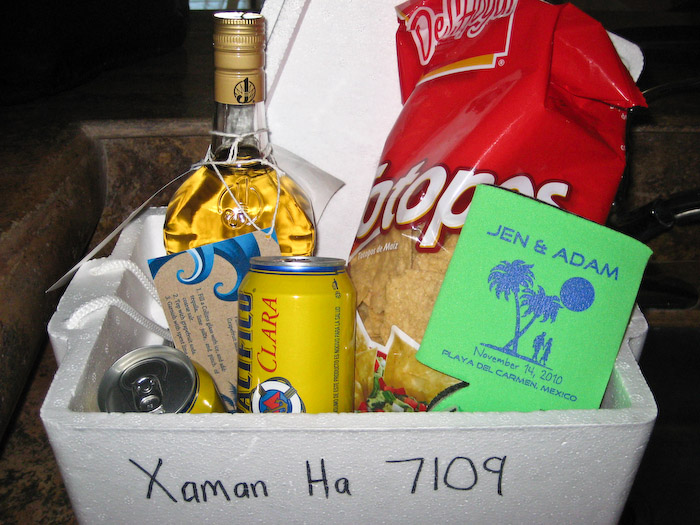 All of our guests were staying at villas or condos in Playacar Phase 1. We got two different sized coolers depending on how many people were staying in each villa and then filled them accordingly. We figured the coolers would come in handy to help people carry beer to the beach.
Each cooler contained:
1 950ML bottle of Jimador Reposado
1 3L bottle of grapefruit soda
Limes
1 Bag of sea Salt
Recipe cards to make a Paloma with the above ingredients
Beer
Custom Beer coozies
Chips
A welcome letter and a print out of our wedding map.
Quantities of most things varied depending on the number of people staying together (anywhere from 2-4 in a condo to 6-8 in a villa).
My friend Rob is demoing how to put a paloma together (note: this did not happen on Monday, Lynn and Rob didn't get there till Friday, just wanted to show you how it went down!):
Add tequila, Juice of half a lime, A pinch of salt: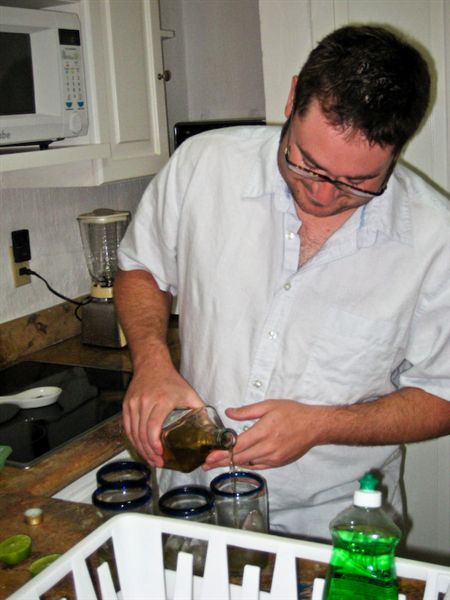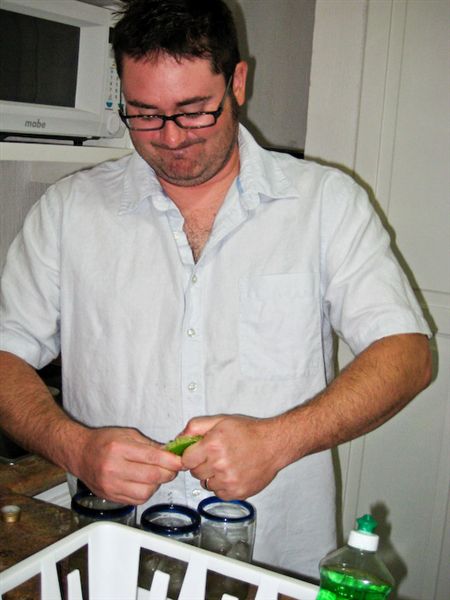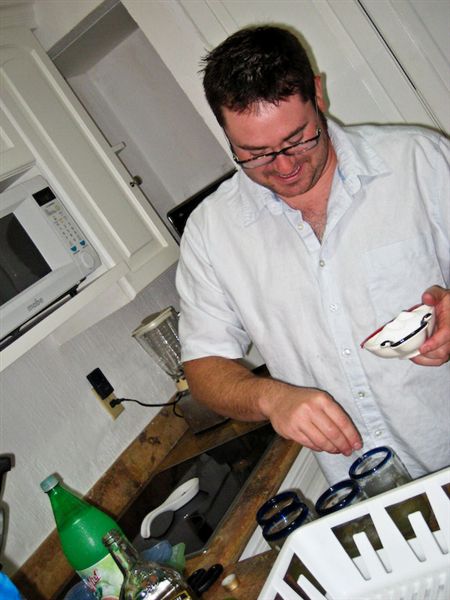 No Rob, we said a pinch! Yikes...
Top with grapefruit soda, stir, and enjoy!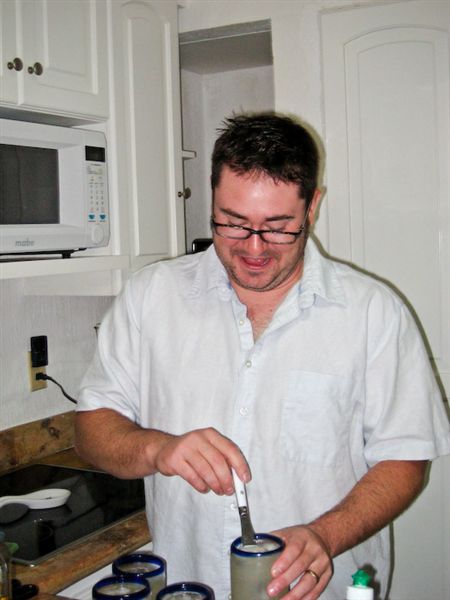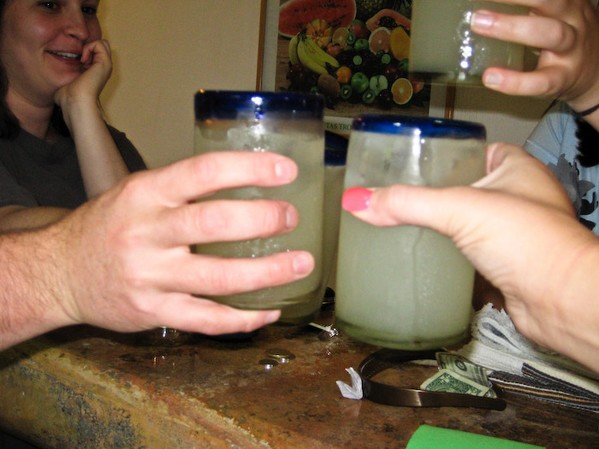 But since Rob added way too much salt, he had to get some sugar out... Oh man.. this is not how you make a drink Rob!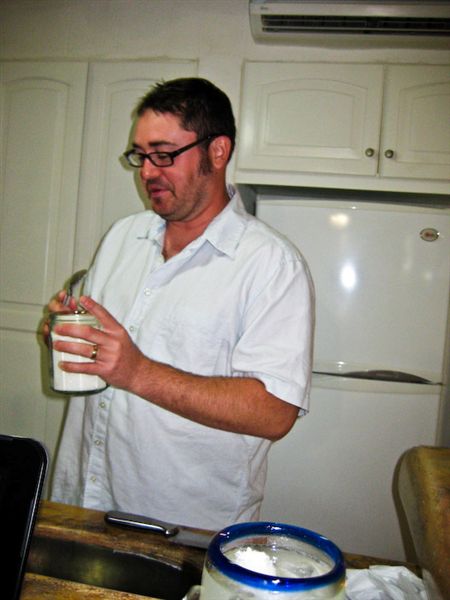 The recipe card: