On the agenda: day trip to Akumal and then our rehearsal dinner at El Bistro.
The bus was scheduled to pick us up at 8am so everyone was up bright and early. At 7:15, Erica called to say the bus would be there at 7:30. I said there was no way we'd get 30 people ready to go in that amount of time so she said he would try to find a place to wait for us.
At 8am, we were all waiting for him to show up and he was nowhere to be found. 8:10... 8:15.... finally Adam decides to walk around and try to find him. A few minutes later we see a bus drive up and Adam is in the front seat. Apparently the driver parked around the corner and fell asleep.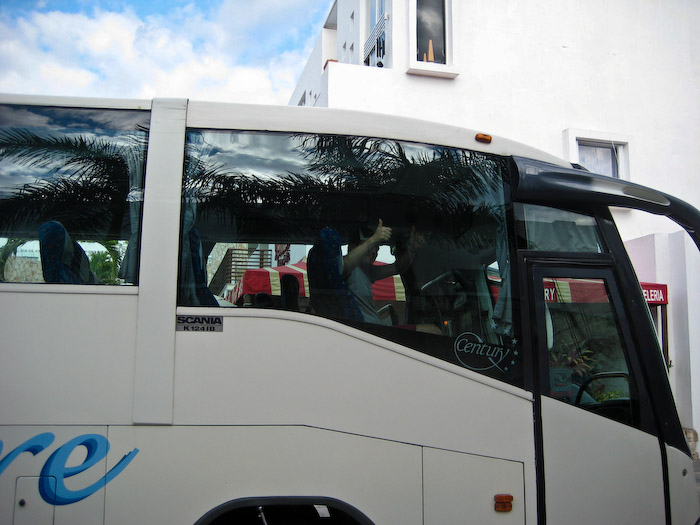 Nice! By the way, it cost us $390 to rent the round trip charter for 28 people (in case you are ever looking to do something similar). Load 'em up!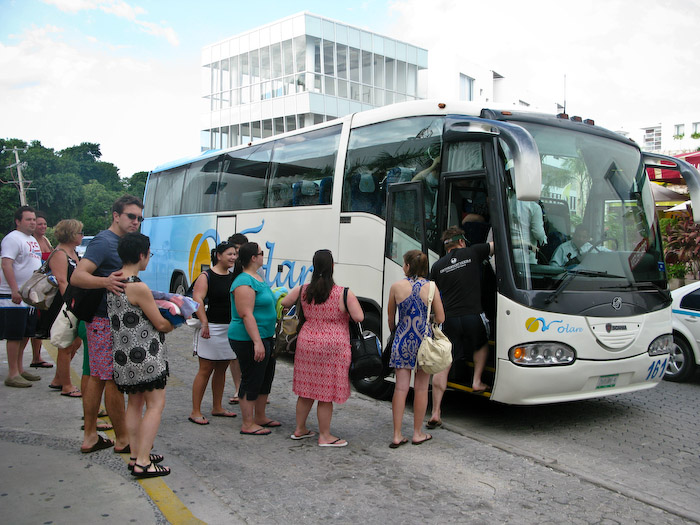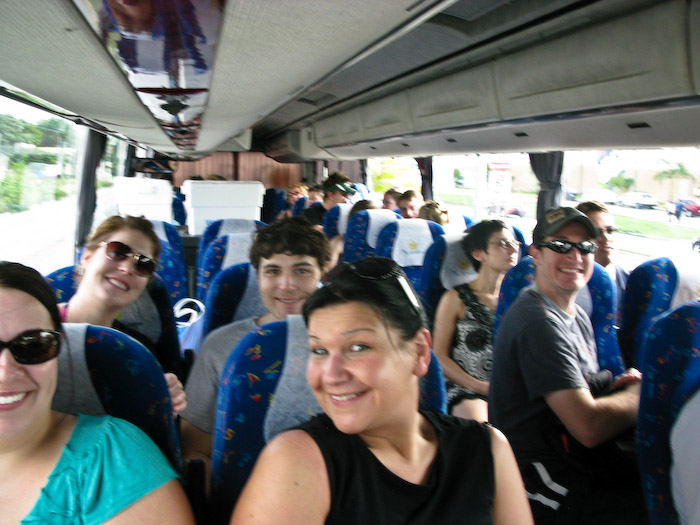 Look, we're almost there!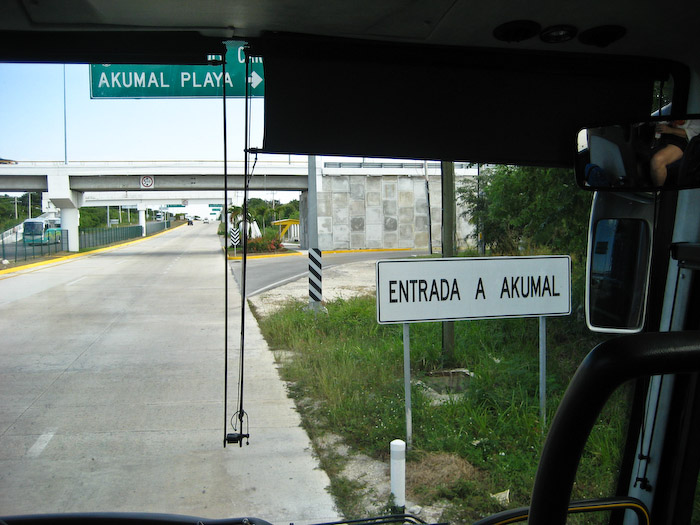 The bus dropped us off at the arches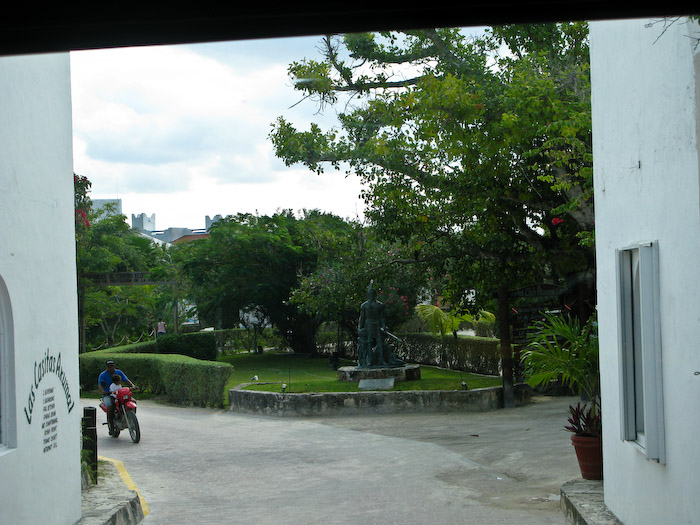 And then we just had a short (2 minute) walk the rest of the way.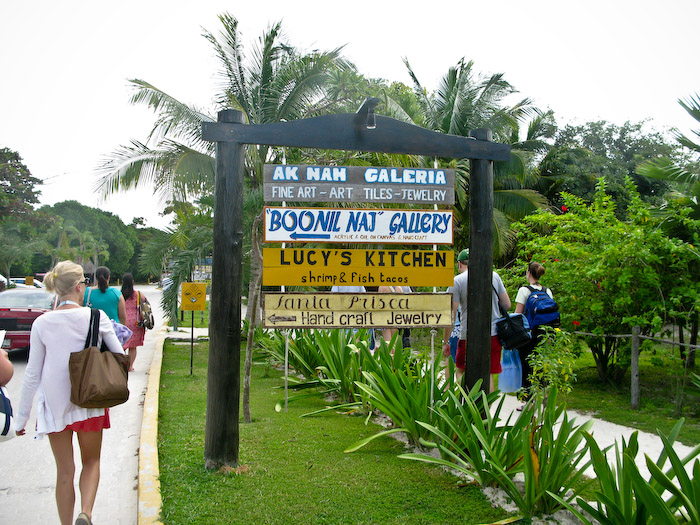 We entered through the Akumal Dive Shop where you could rent a mask snorkel for maybe $7, flippers for $5, life vest for $4, something like that. Or for $18 you got all of it, plus a locker, plus a shower, plus someone would take you out and show you stuff.
Nobody wound up getting that package. You definitely didn't need a guide.
We were on the beach before 9am, it was a little overcast and we were the only people there.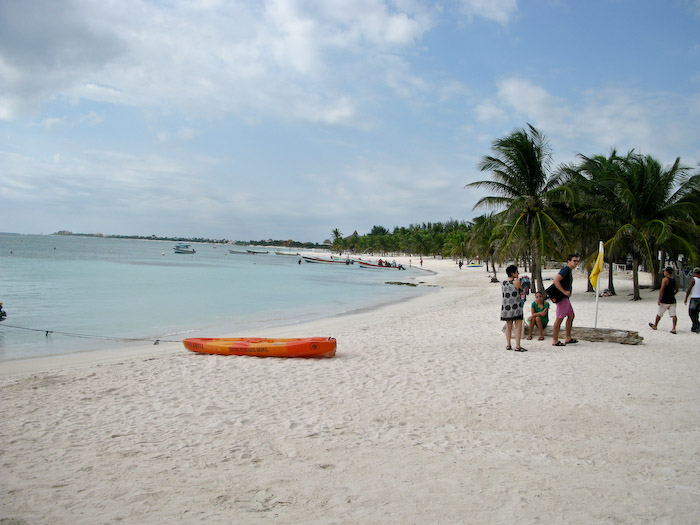 We picked out a spot right in front of Lol-Ha, rented chairs, and everyone geared up.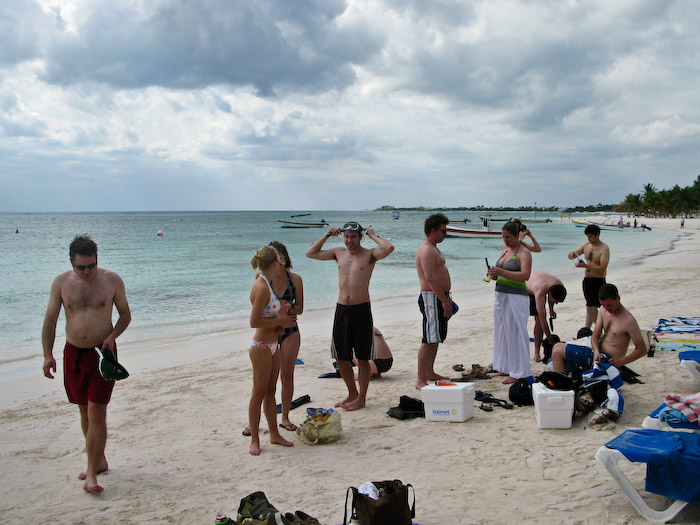 I swam out ahead of everyone to check it out and within about 10 minutes I was just about pissing myself to see this!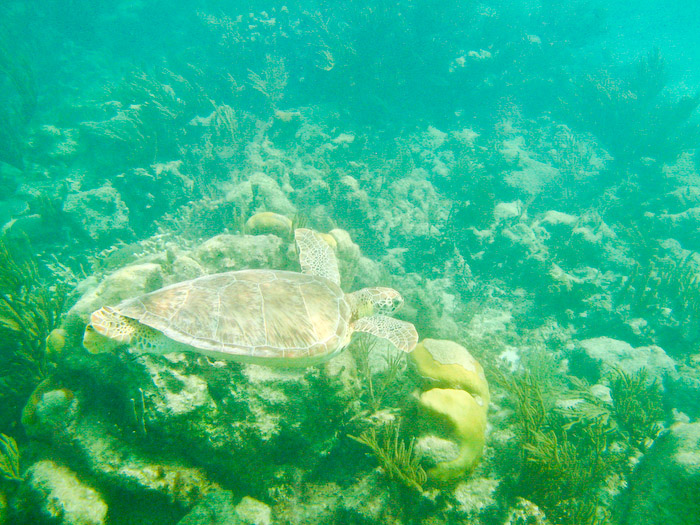 Adam and I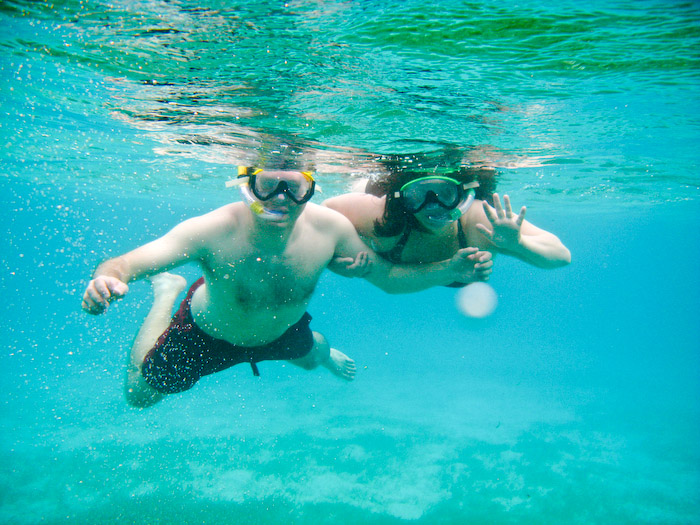 And here's more tortuga! This guy had some friends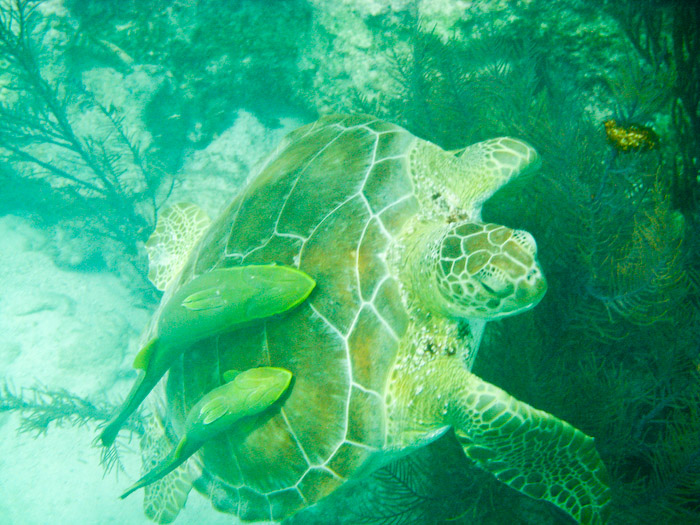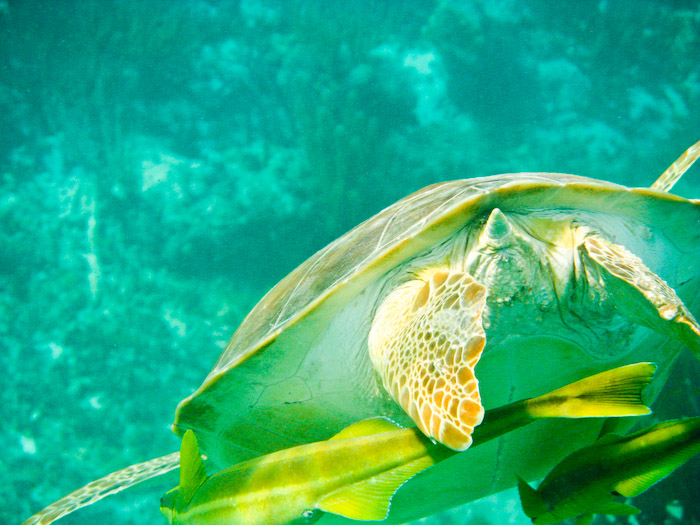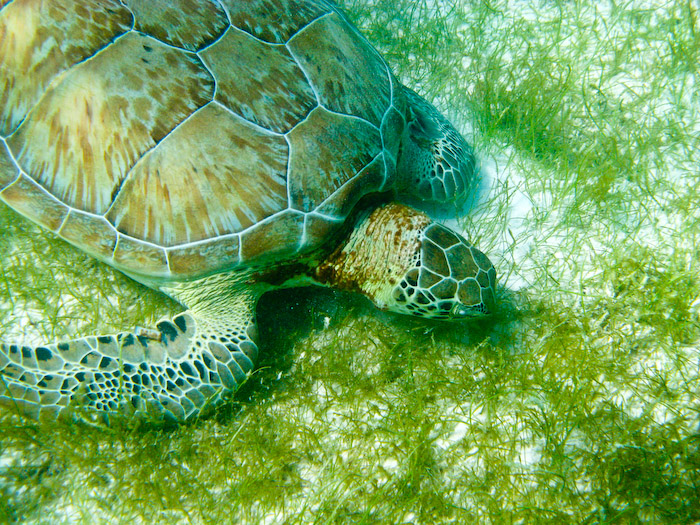 As we were swimming back in we saw this guy: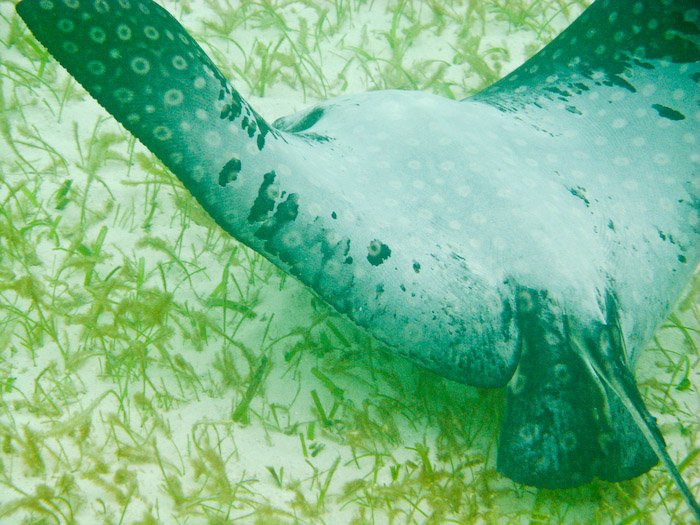 Spotted Eagle Ray I think?
We saw lots of good stuff out pretty far. To give you an idea, here is a picture of the beach from the distance we'd swam out. We didn't have flippers or life jackets but we are fairly decent swimmers.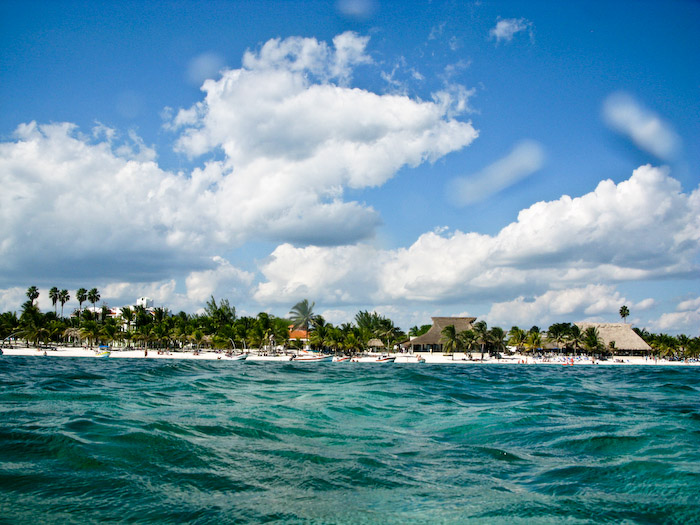 Every single one of our friends who got in the water saw turtles and nobody had a guide. We just swam straight out from Lol-Ha. The rest of the people that didn't want to snorkel rented beach chairs for 50 pesos.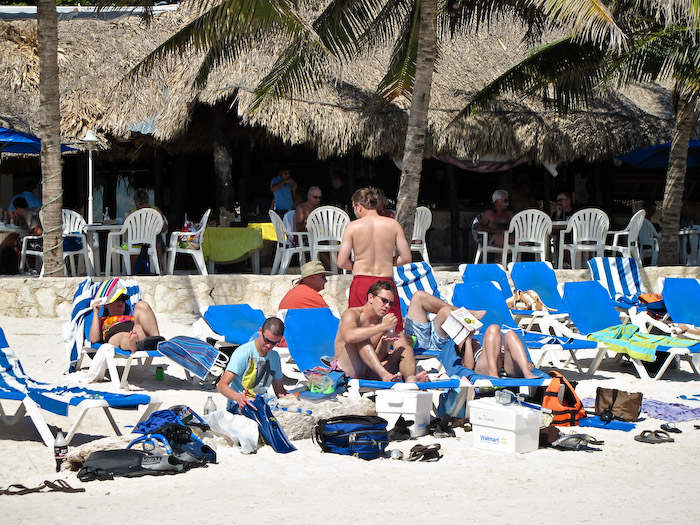 A few of us went and had lunch at Turtle Bay Cafe.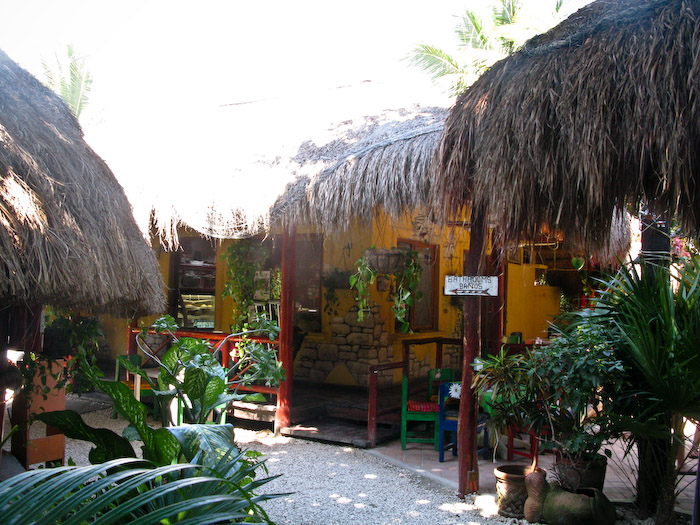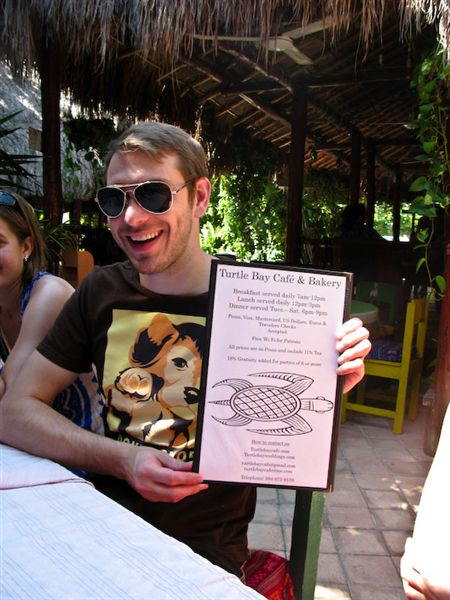 The food was great, except for this, which two people got. It looked like it would be delicious - a scramble with goat cheese, chaya, etc. But it wasn't...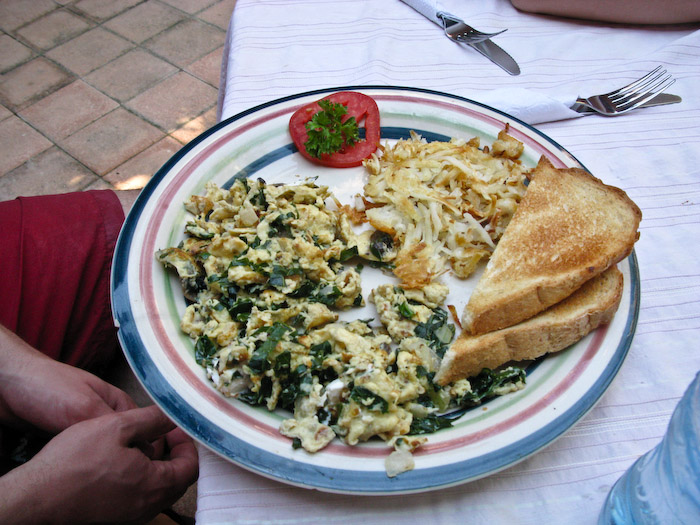 French Toast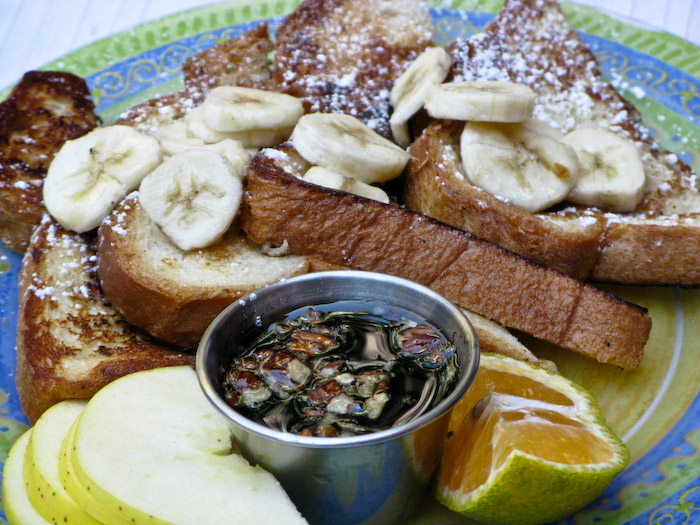 Some kind of Vegetarian supreme breakfast thing that everyone loved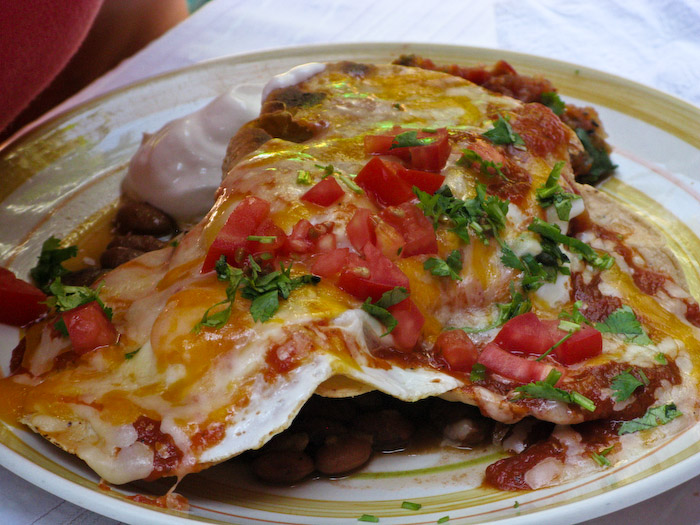 Steak and Eggs (the most expensive thing on the breakfast menu)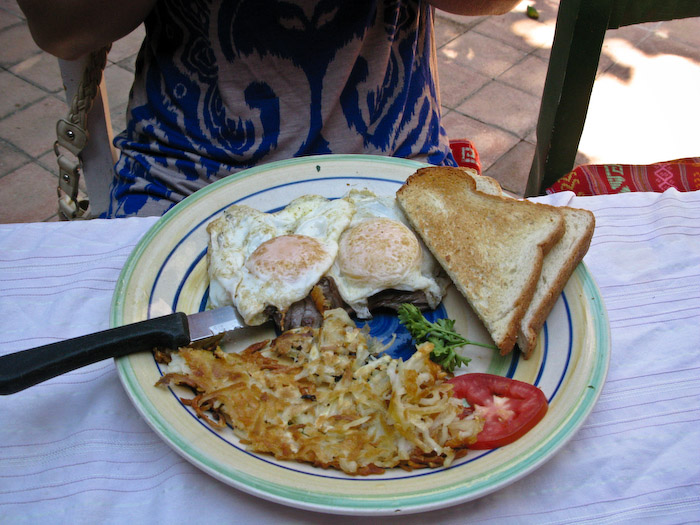 The fish sandwich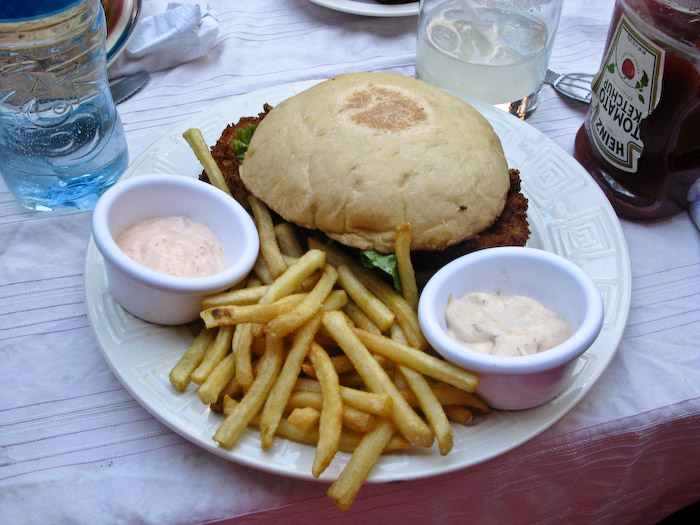 Crab cakes benedict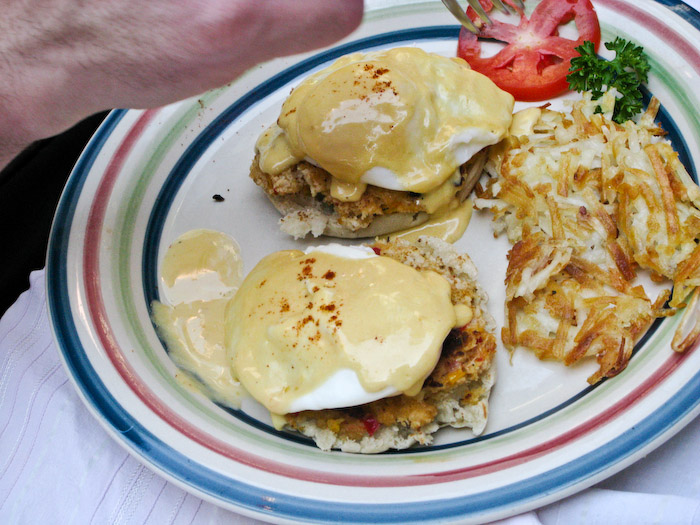 The other folks ate at Lol-Ha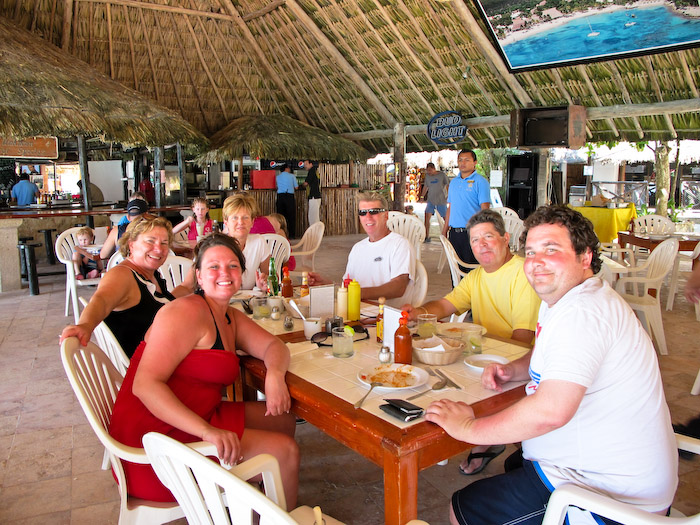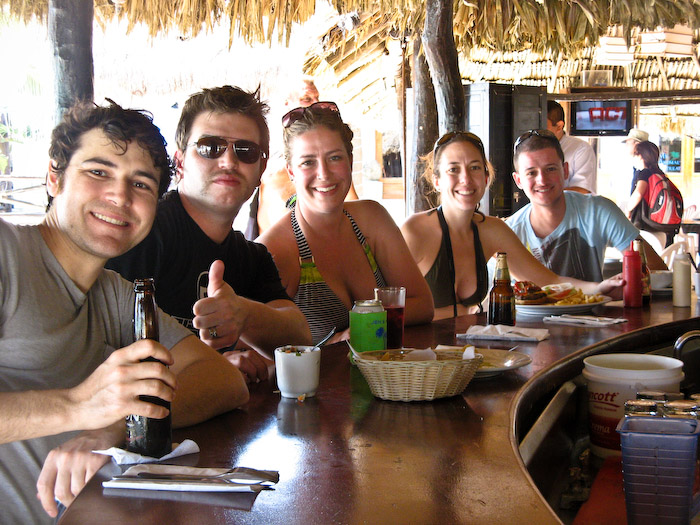 We went back snorkeling again but we had to meet the bus back at the arches at 2pm.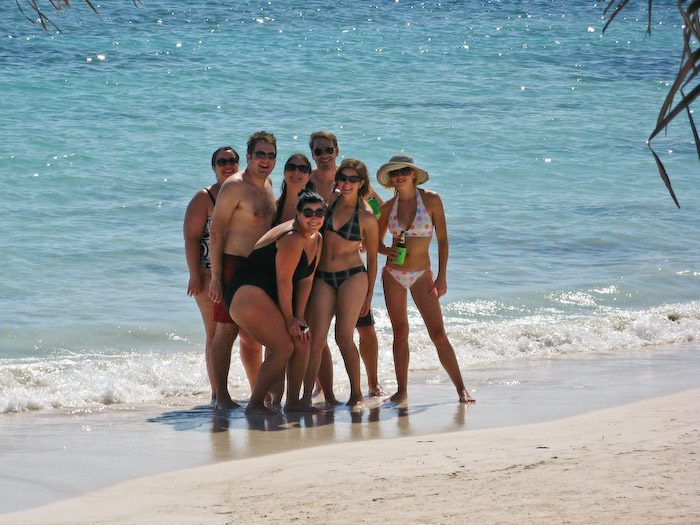 Here we all are right before we had to pack up.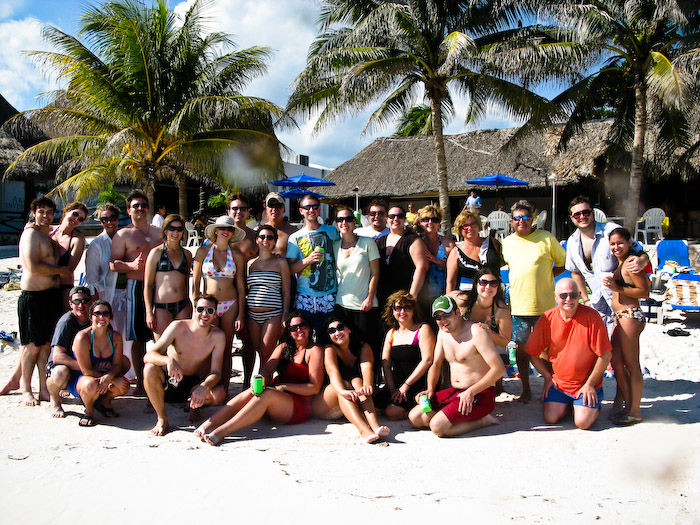 And, the bus ride home. Running dangerously low on beer despite a few runs up to the Super Chomak.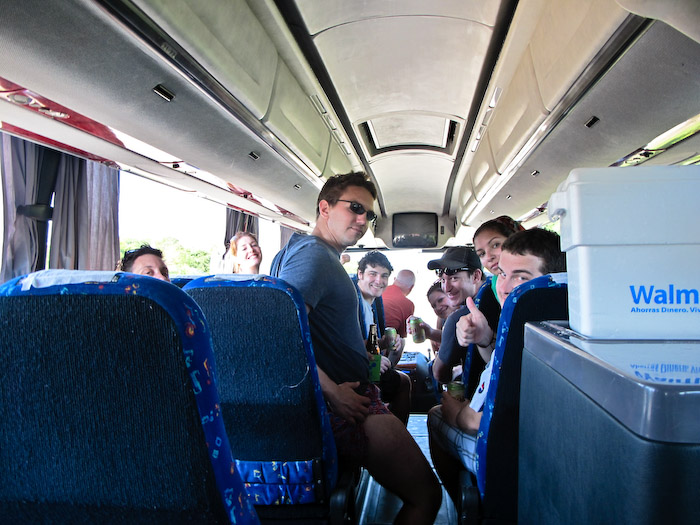 We got back to the villas around 3 and had time to kill. Here's some folks hanging out at Casa Stavola 1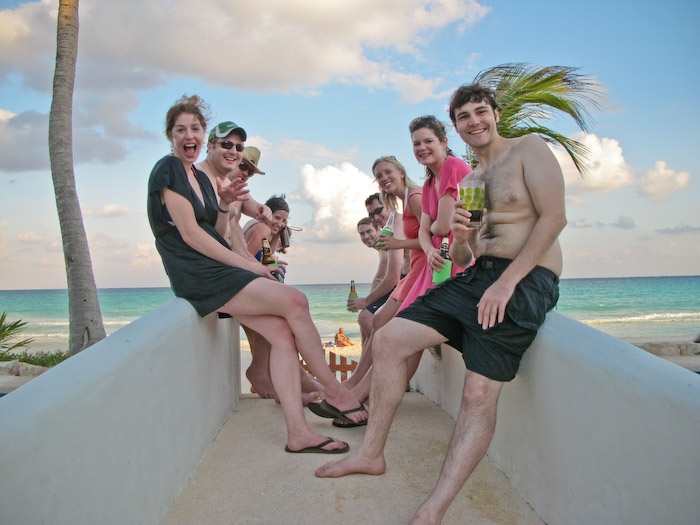 When we got back, we found 2 more stragglers had arrived as my Aunt Sherry and Uncle Steve were lounging by the pool. We hadn't had enough water though and were still getting a huge kick out of the waterproof camera so we all jumped in too.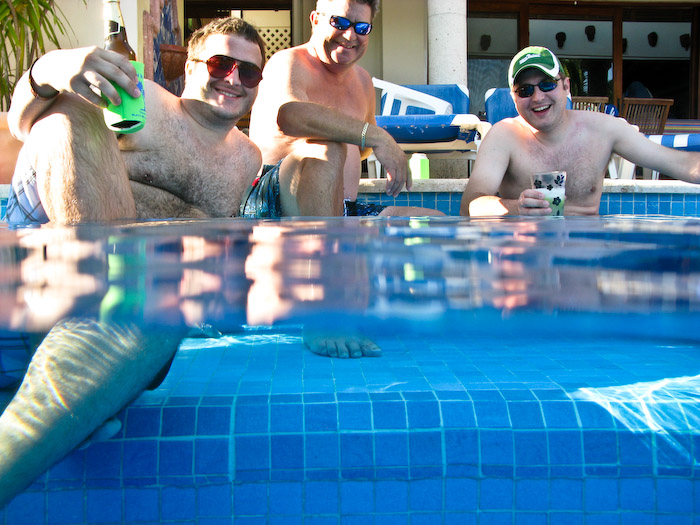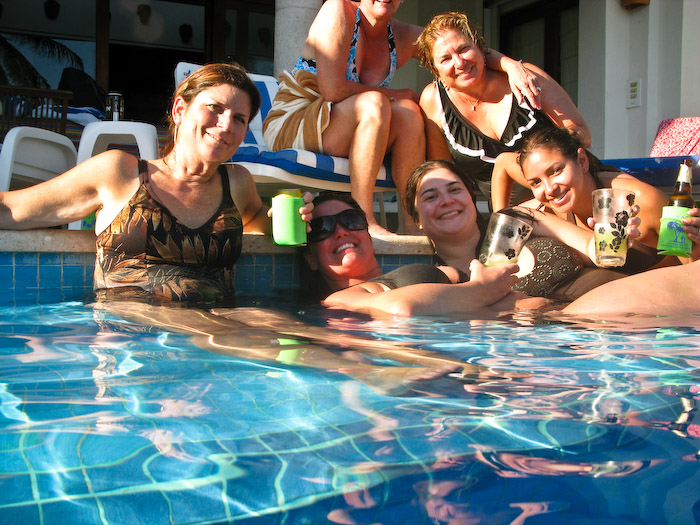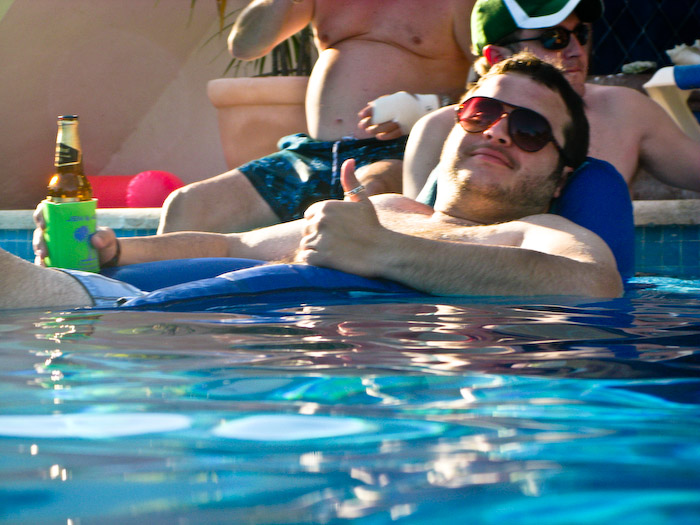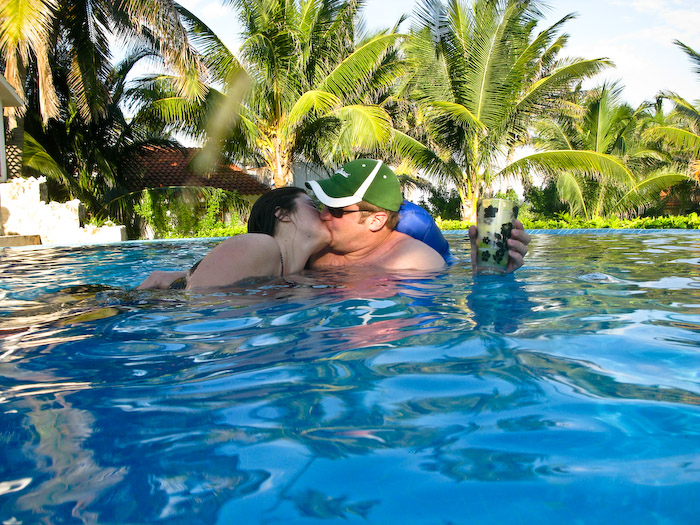 We finally dragged ourselves out of the pool and got ready for our rehearsal dinner at El Bistro (in La Tortuga hotel). About 10 people were just arriving on Friday so we'd be seeing them for the first time at dinner. But a few surprised us and came over for cocktails beforehand.
Hi Lynn and Rob!!!! I haven't seen these two for about 3 years, they are my oldest college friends!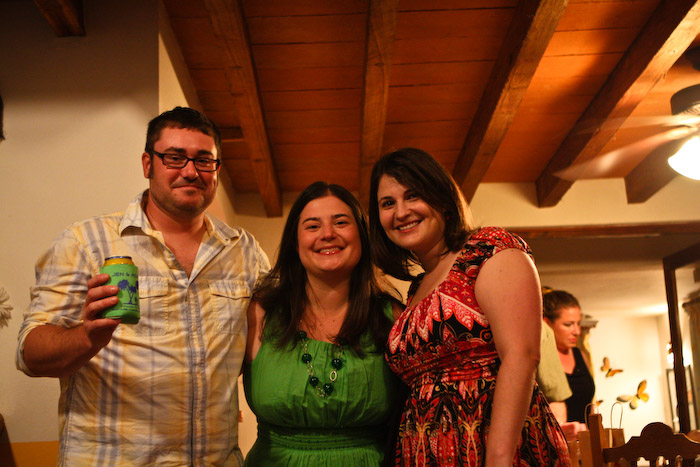 Carrie worked on our wedding signs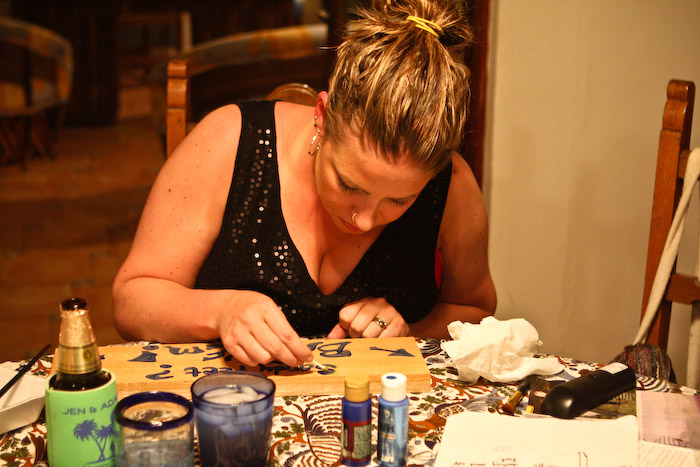 Jimmy made people drinks (even though we had 2 hours of open bar coming up!)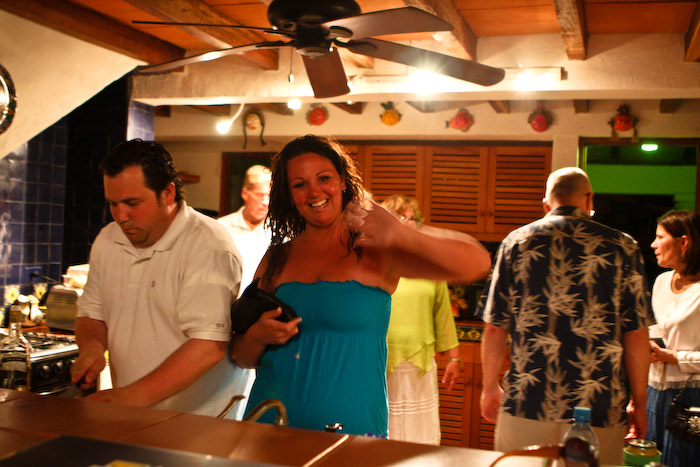 Maggie (Adam's brothers girlfriend and our translator for the week) tried to call a cab for 30 people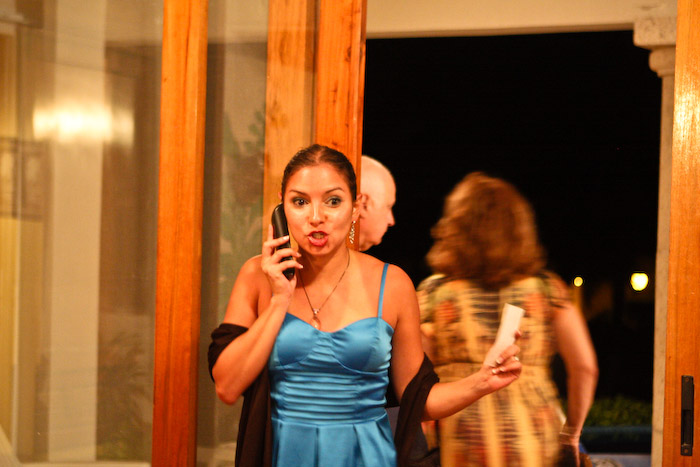 Look, we found a big one! (We actually wound up with this same driver 5 times over the week)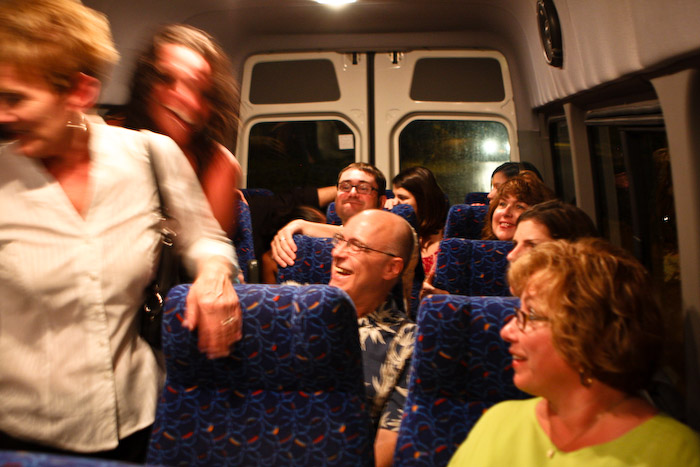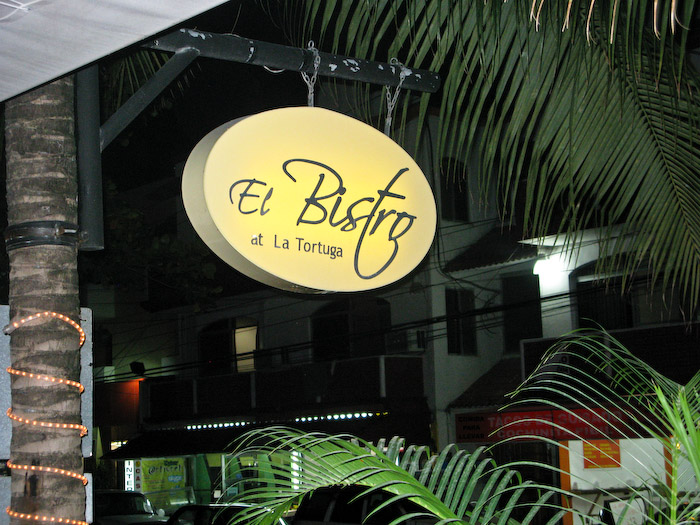 Even though we had an open bar package, I was worried how they would get 50 people drinks as soon as we got there and figured it might take a good 30 minutes before everyone had a cocktail. Oh man was I wrong! They greeted us with trays full of Blue Margaritas, Frozen Mojitos, and Pina Coladas - all fantastic (and that's coming from someone who does not at all enjoy 99% of the frozen drinks she tries)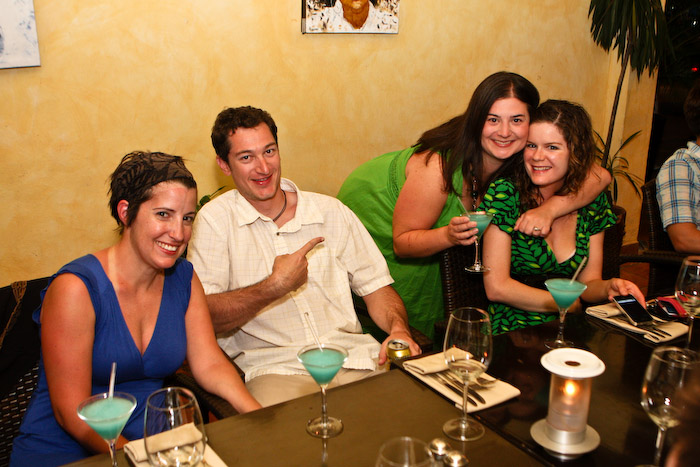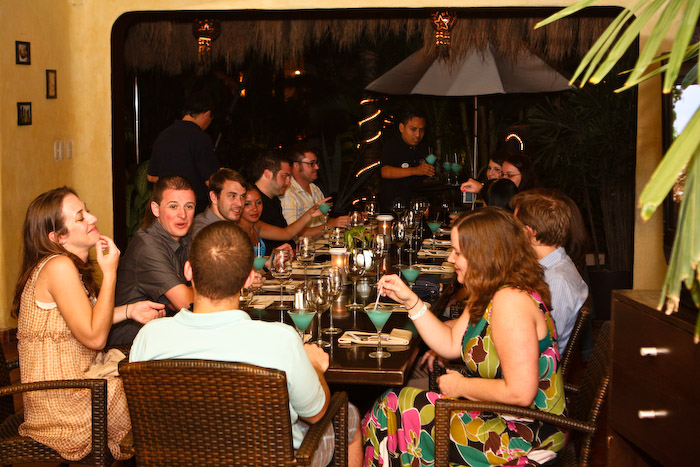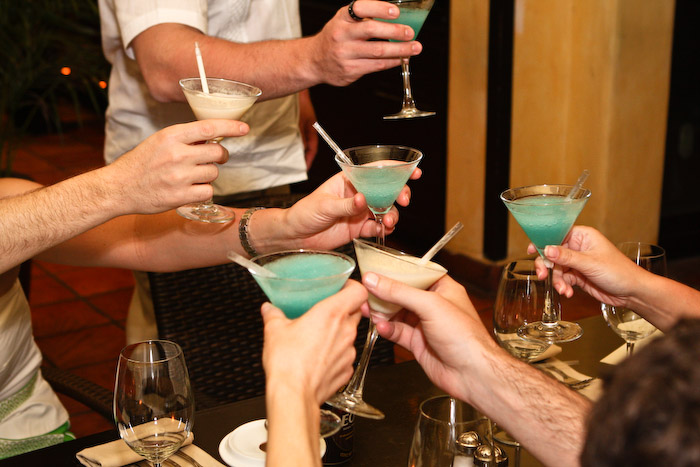 Hey, there's my Uncle Bill - they made it!!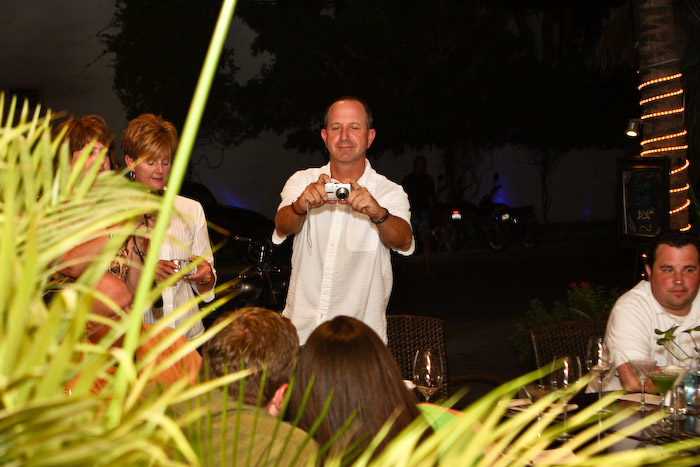 By the time everyone finished their first round of drinks, their ordered drinks had shown up!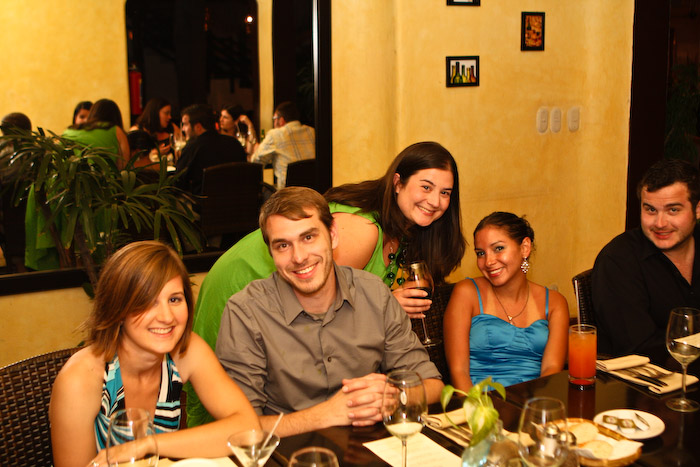 Love these lights down there. I want to decorate my patio at home with them!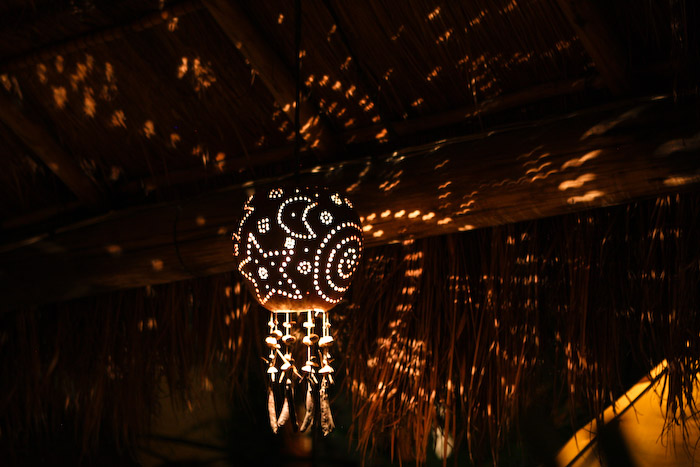 Green is my favorite color so I had to get the all green picture with Kendall!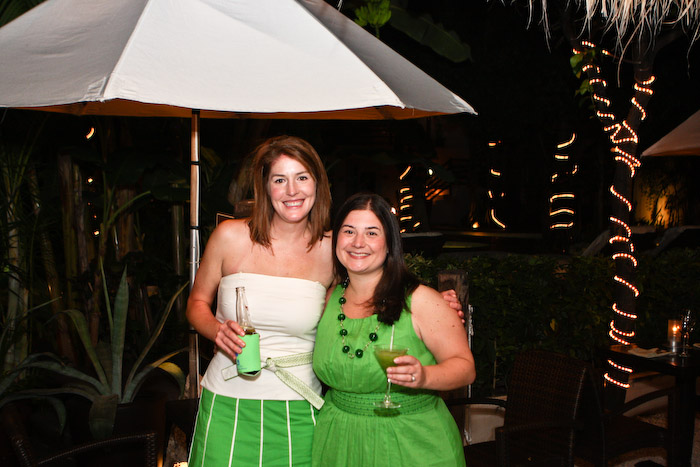 They let everyone wander around so here are people checking out the pools.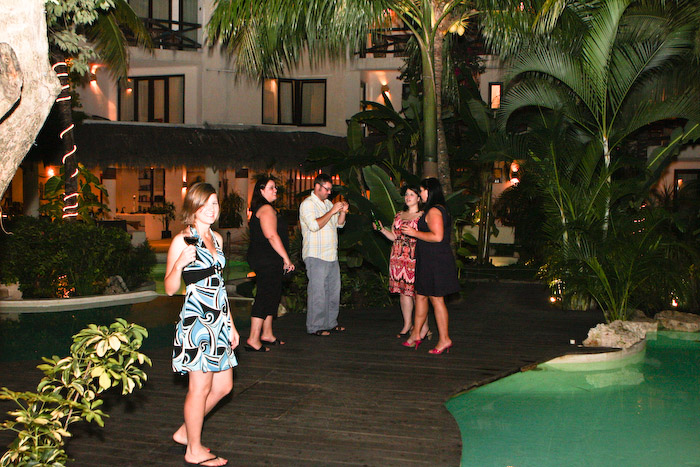 Ok, ready for some food? Our guests had the choice of 2 menus:
Fish Menu
Smoked salmon cake with mascarpone cheese and mango coulis.
Pear Salad with Gorgonzola Cheese, agave honey and balsamic dressing.
Grouper fish Filet on lobster sauce with butter vegetables and Mexican rice
Crepe flambé with vermouth and organic jam.
Green Salad & Filet Mignon
Caprese brusquetta
Green Salad with Agave honey vinegar.
Filet Mignon on a Mushroom sauce
Moka Cake
Everything was INCREDIBLE! I can't say enough about this food. Yum yum yum!
The Appetizers (Smoked salmon cake with mascarpone cheese and mango coulis on top and Caprese brusquetta on the bottom)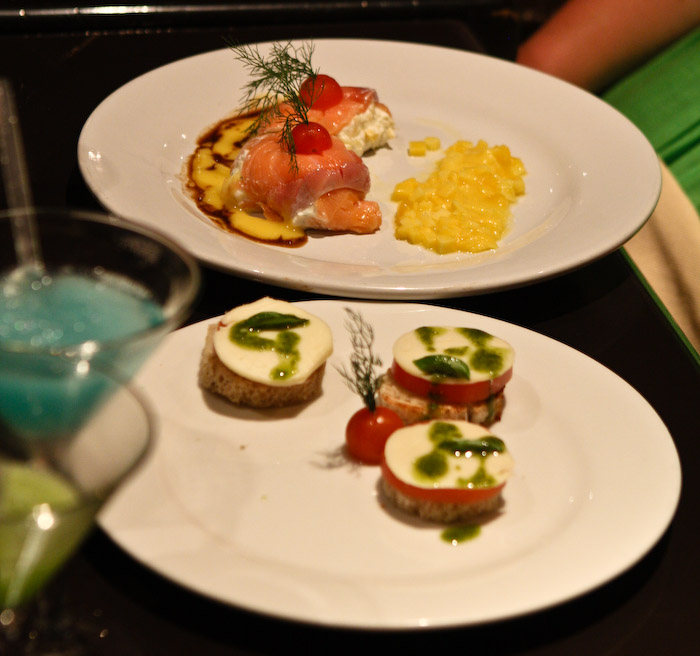 The Salads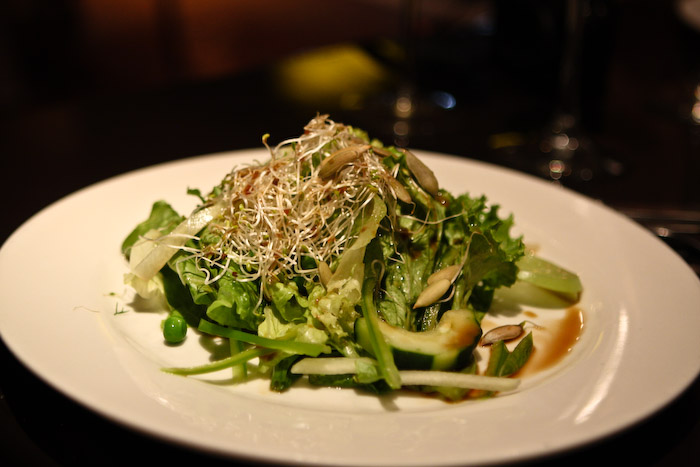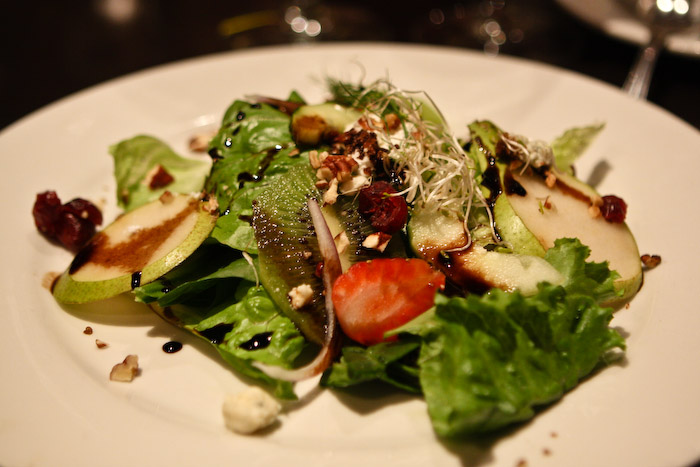 The entrees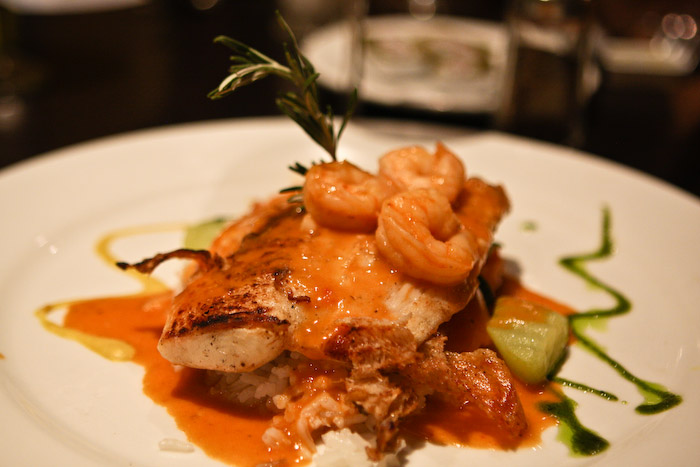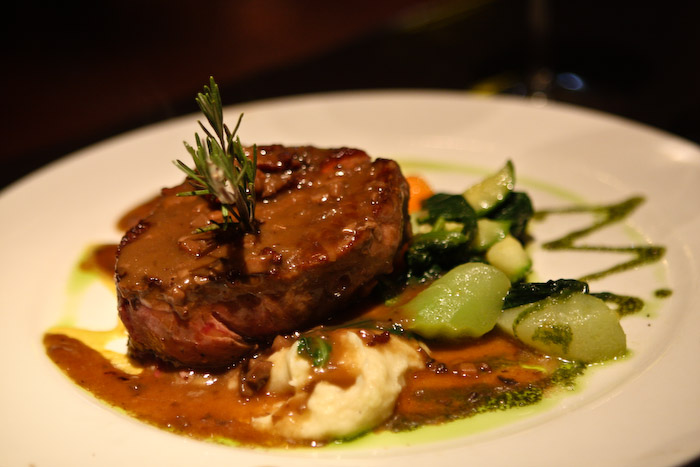 We were getting a little full at this point so I asked Jose to wait a bit before dessert. He said no problem since he had a show planned for dessert anyway!
Here he is preparing us the Crepes Flambé !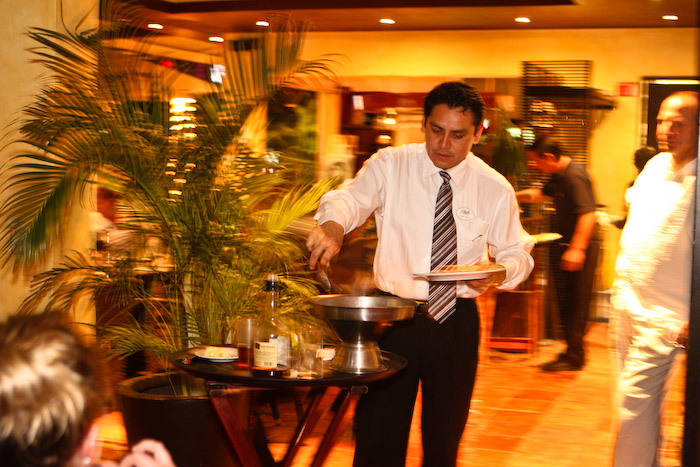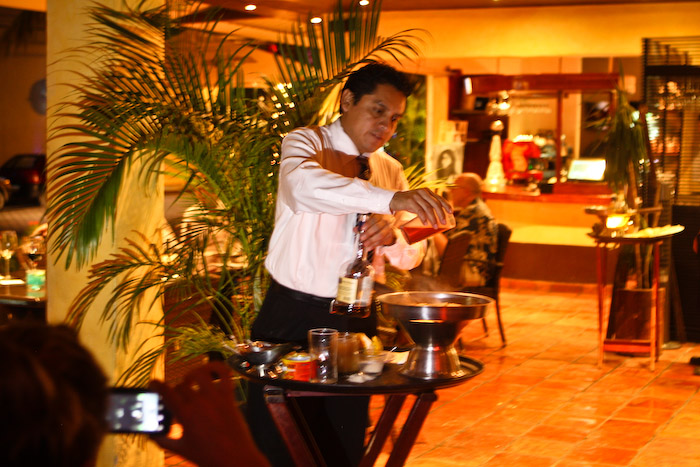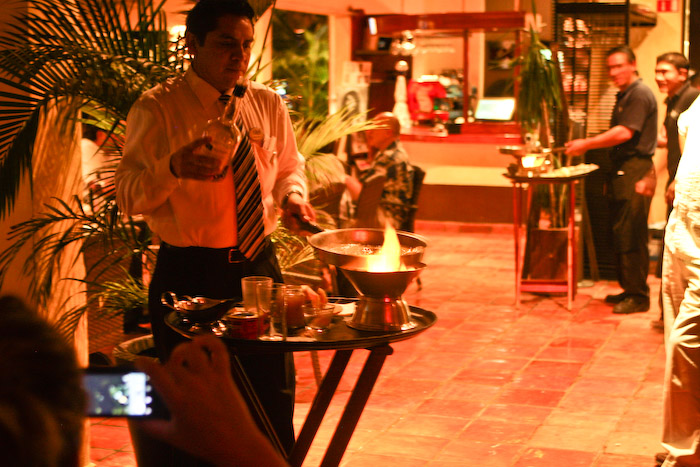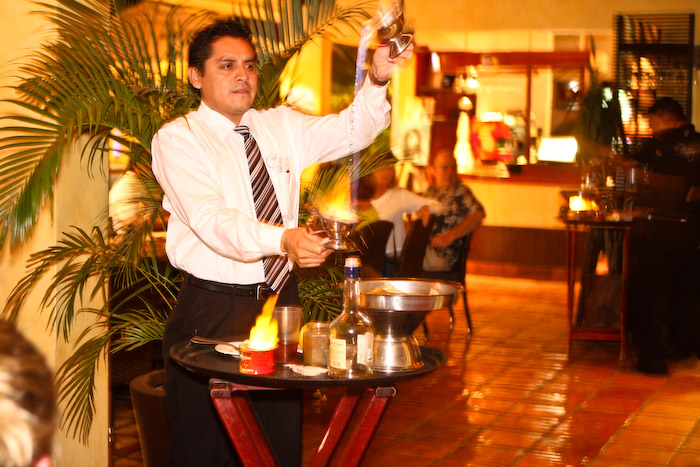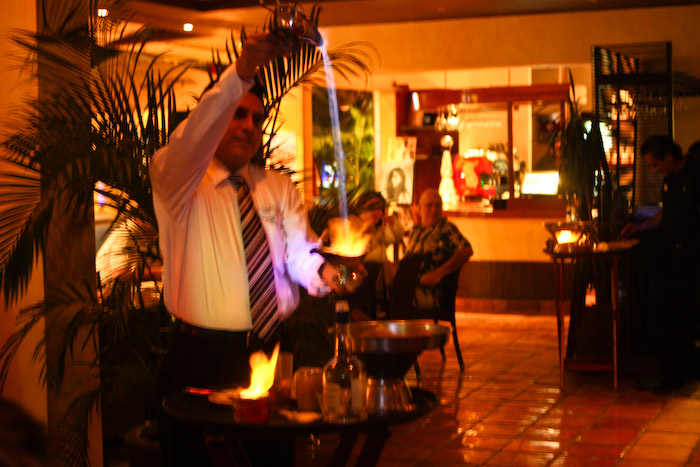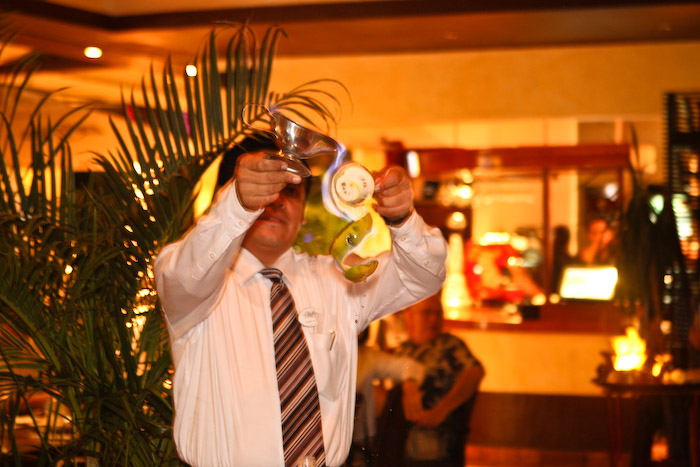 Rambo was making one too!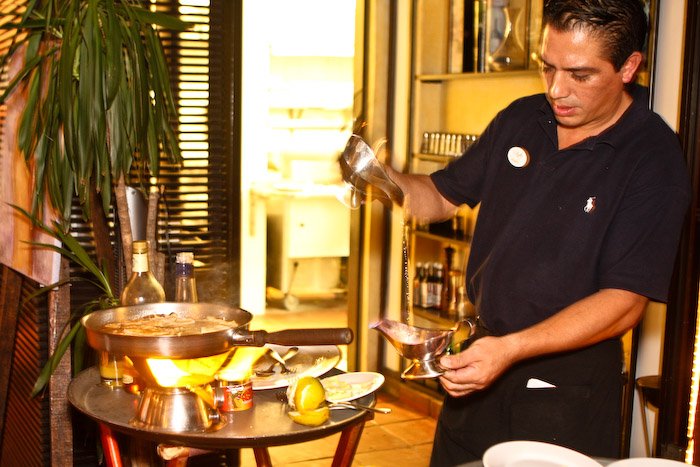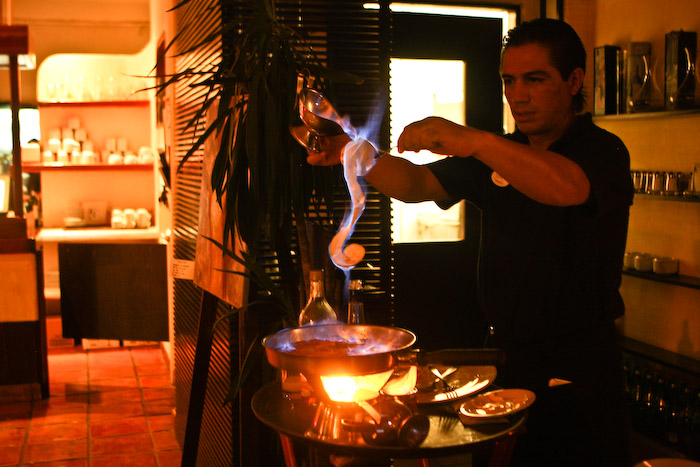 Thanks guys!!!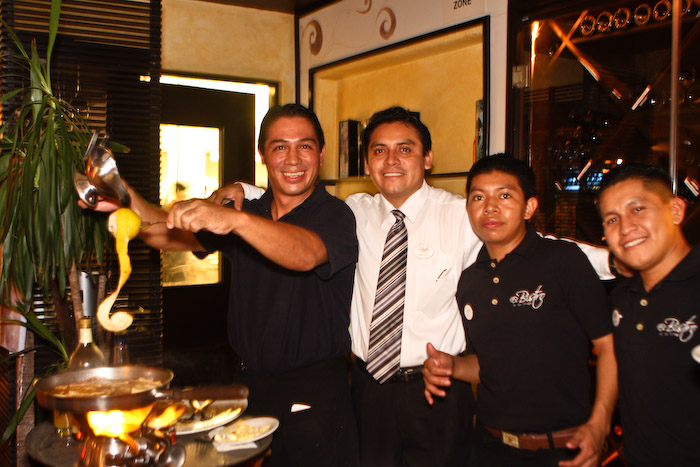 Here it is all finished. Yummmmmmmm!!!!!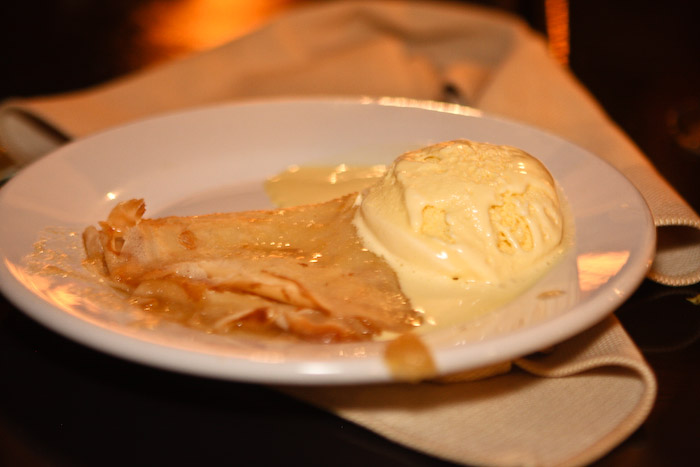 And the mocha cake was delicious too!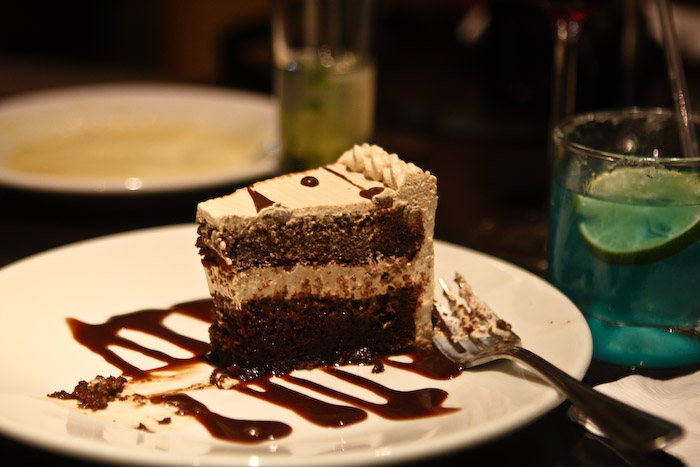 Our open bar was scheduled from 7-9pm, at 9:30, Jose came over and showed me the time and asked what we wanted to do. I said, oh wow, that's fine, just tell everyone open bar is over. He said "Well, how about I do a last call?" So so generous!!!! They continued serving us until at least 10pm.
We were completely blown away by the service, food, drinks, and generosity of the folks at El Bistro - thank you so much guys! Especially Jose and Rambo, but you were all fabulous!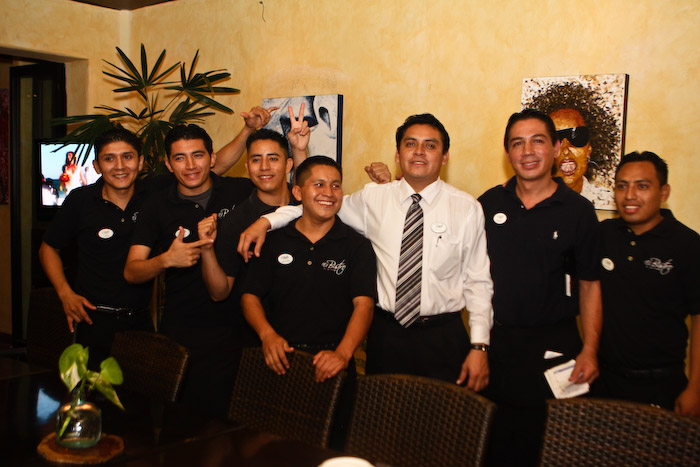 If anyone is thinking of taking 40-some people out to eat and you want to really impress them, (or if you're just looking for a romantic meal for 2), this is definitely the place to go! El Bistro @ La Tortuga Hotel in Playa Del Carmen.
A group of us decided to walk back along the beach and maybe find some entertainment. We made our first stop at Zenzi.
Some people did shots
And tried to get Adam and I to do one too (we declined, we are not really shots people)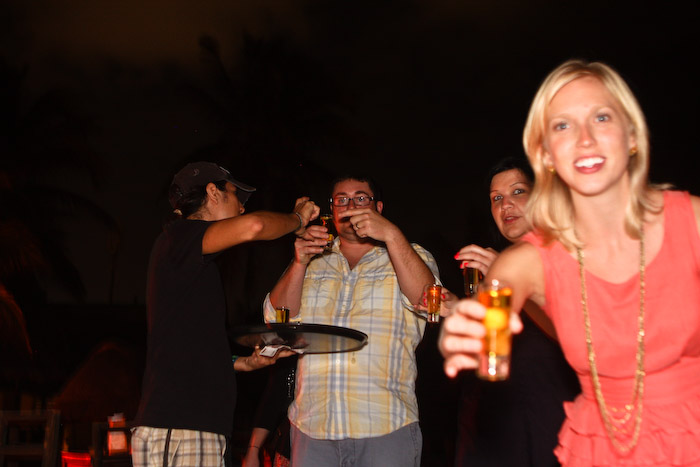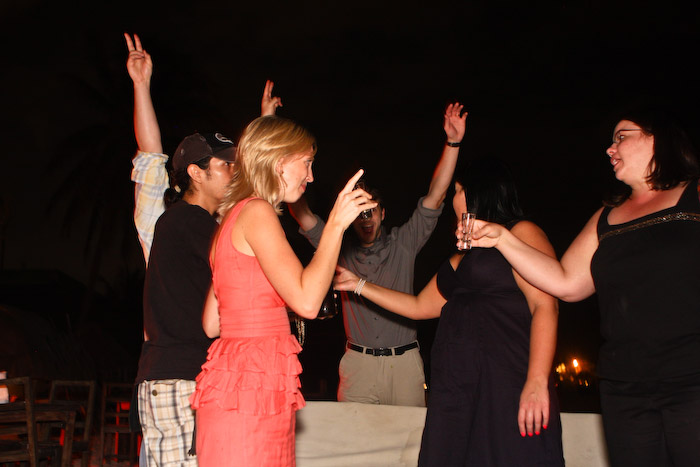 Why aren't all bars like this? comfy couches right in the sand, shoes optional!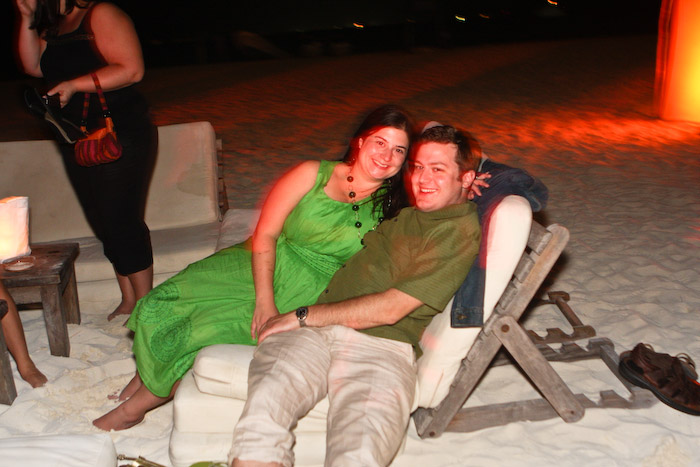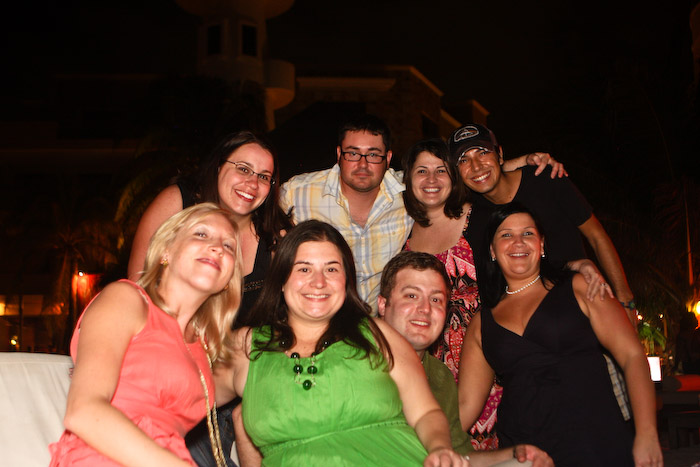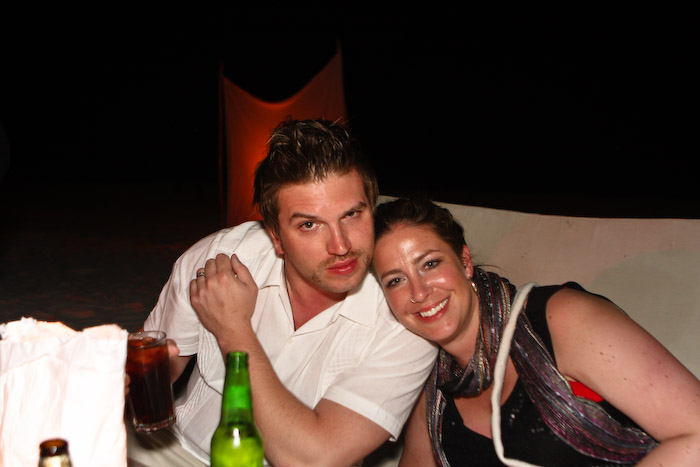 Oh my! This would not be the last time PD wore Erin's shoes.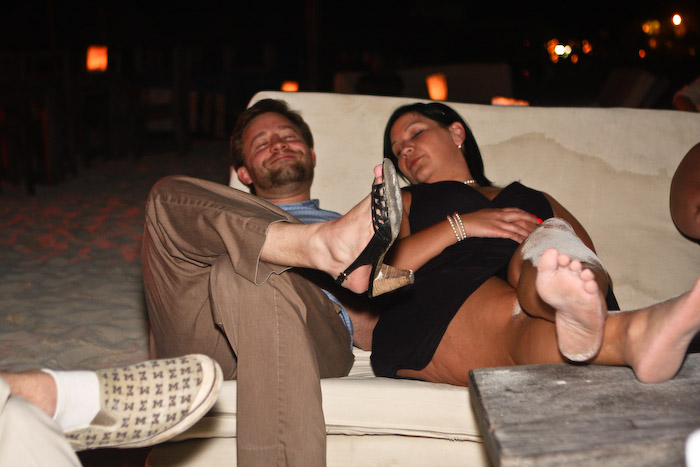 There was a little dancing (while I played with dragging the shutter)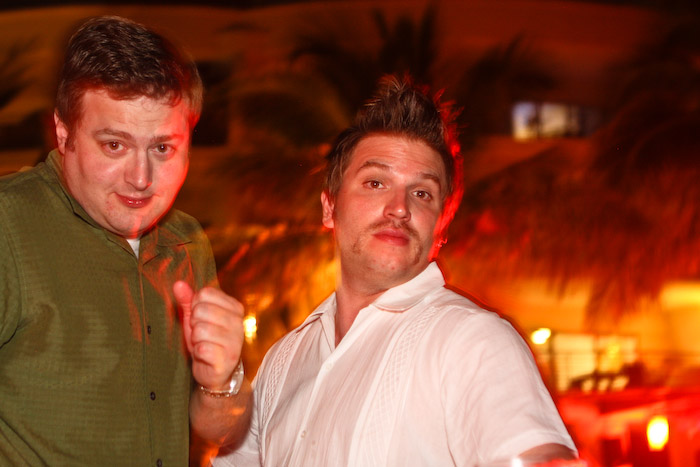 After that we left Zenzi as the drinks are so overpriced (and this answers the question I posed a few photos up. All bars aren't like this because if they were, nobody could afford to drink). We were going to go to Fusion for some live music but there was a set break as soon as we got there so we just went home. But not before Erin stopped at every lighthouse station, climbed up it, and played Baywatch first.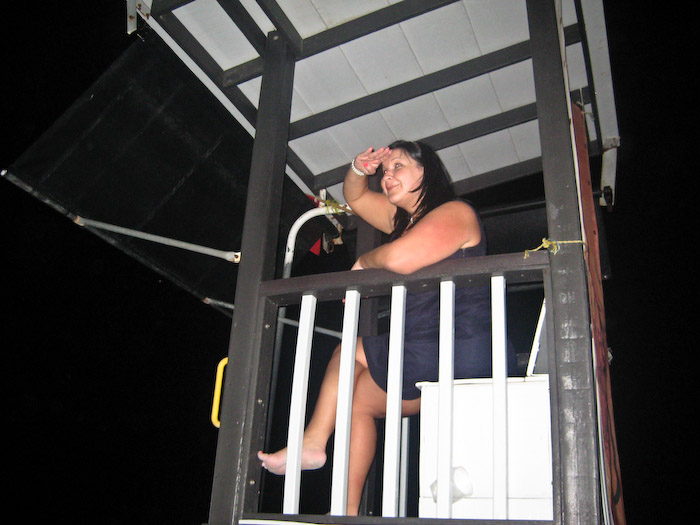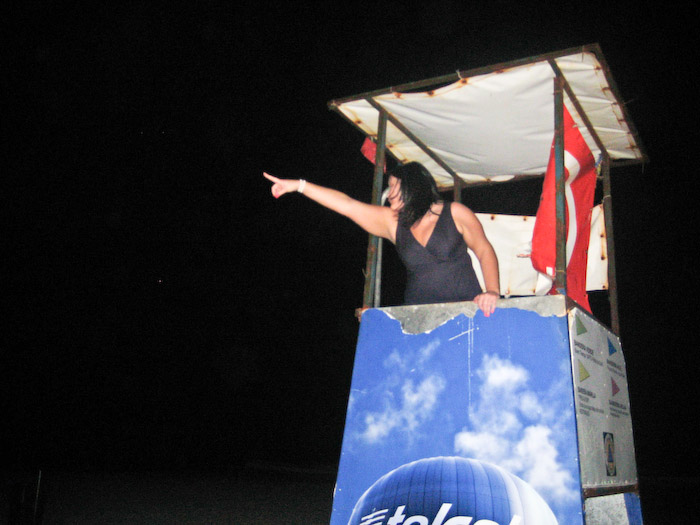 Big T wanted in on the fun too.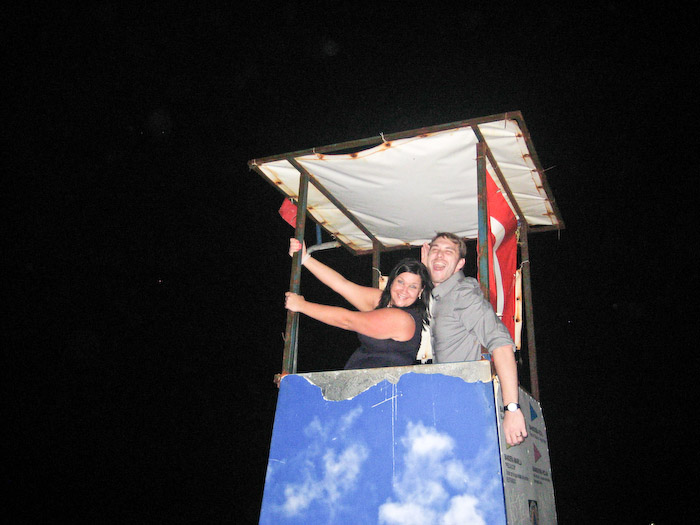 Ok, just one more days recap till the big wedding post!